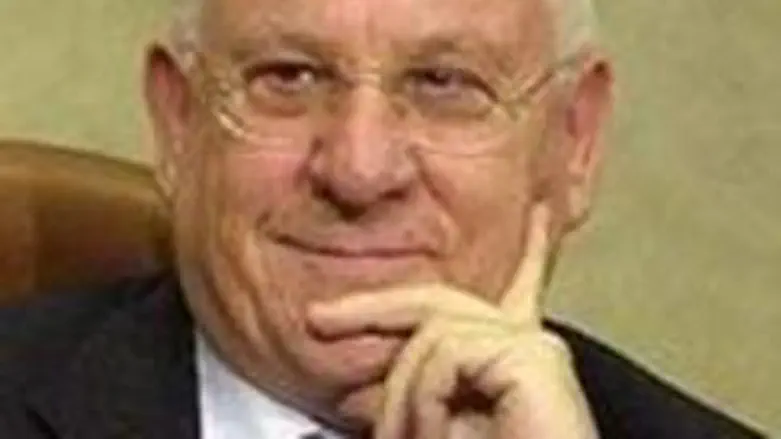 Knesset Speaker Ruby Rivlin
Israel news photo (file)
Though PM Netanyahu agreed to a demilitarized PA state under specific conditions in his policy speech this week, Knesset Speaker Ruby Rivlin told former U.S. President Jimmy Carter that the issue is far from agreed upon by the Israeli public.
"The heart of the dispute in our region is not just one of local territorial disputes," Rivlin told the self-proclaimed mediator on Monday, "but an all-around Arab-Jewish dispute."  Rivlin explained just last week, during a solidarity visit to the Jewish city of Ariel in Samaria, that "only after we solve the Arab-Jewish conflict and can be confident that the Arab countries recognize Israel and our right to live here in security, can we address the conflict between ourselves and the Palestinians, with whom we are destined to live together."
"There is no consensus in Israel regarding the two-state formula," Rivlin said to Carter during the latter's visit to the Knesset.  "We will not, under any circumstances, allow the establishment of a neighboring state that will be a genuine threat on our existence."
The two met for a half-hour, and discussed the recent speeches by U.S. President Barack Obama and Prime Minister Binyamin Netanyahu.
Rivlin: We Want Long-Term Peace, not "Peace Now"
"We have returned to our homeland over the past 200 years in order to stay here," Rivlin said. "When we first established this state, 61 years ago, we could never imagine that we would reach today's population figures of seven million. We don't want to rule over another nation, but we must protect ourselves. We want real peace, not fake, short-term 'Peace Now,' which is liable to be nothing more than an illusion."
Carter Compares Terrorists and Shalit
Rivlin and Carter discussed the matter of Gilad Shalit, who has been held captive by Hamas in Gaza for three years. Rivlin said that Hamas has not allowed any visitors to see Shalit, in contravention of all humanitarian behavior. Carter noted that imprisoned Arab terrorists also do not receive visits from their mothers. Rivlin responded immediately, "There's absolutely no room for comparison. Those are dangerous terrorists who were lawfully arrested after they perpetrated, or tried to perpetrate, murderous attacks in our streets."
Carter asked to visit imprisoned convicted murderer Marwan Barghouti, a popular figure in the Palestinian Authority. Rivlin implied that this would be unlikely, as Barghouti is a dangerous terrorist who was convicted of five murders and acquitted for lack of evidence of some 30 more, but said that Carter should submit a request and the matter would be looked into.