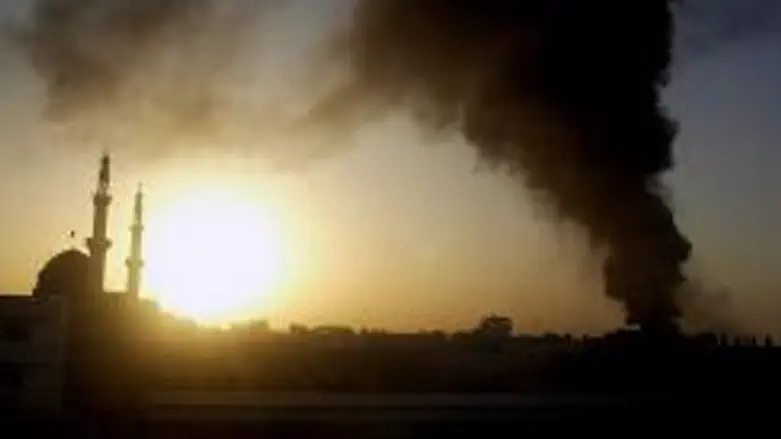 Smoke billows over tunnels attacked.
Israel News Photo: Flash 90
The IAF destroyed 40 tunnels that connected the Egyptian and Gazan sides of Rafiah (Rafah) in a bombing sortie that lasted 270 seconds Sunday afternoon. Plumes of black smoke mushroomed into the air one after the other as the IAF cast bombs at the tunnels which line the Philadelphi Corridor between Egypt and Gaza.
The Corridor is supposed to be guarded by Egyptian forces but these have proven unable or unwilling to prevent large-scale smuggling of weapons and other supplies into Gaza.
A high-ranking military source said Monday evening that all of the tunnels in the area which have d been used by Hamas to smuggle weapons have been destroyed. However, according to Channel 1, the total number of tunnels across the Philadelphi Corridor is estimated at 600. Observers said the IAF may have used U.S.-supplied "bunker-buster" bombs to destroy some of the tunnels.
As part of the psychological warfare against Gaza, hundreds of residents of Gaza received recorded telephone calls in which they were warned: "You are in danger. In order to save your life and that of your family you must leave this place. This is a message from the Israel Defense Force."
The source said that the IAF has carried out 213 sorties over Gaza since Operation Cast Lead began, 56 of them by combat helicopters. Most of the sorties were carried out Sunday.
He said that some of the tunnels were buried deep in the ground and their demolition was made possible thanks to accurate information supplied by the Shin Bet (Israel Security Agency).
The source said that the fighting would go on for a long time and warned that Israel would see "difficult days" in the course of the operation.