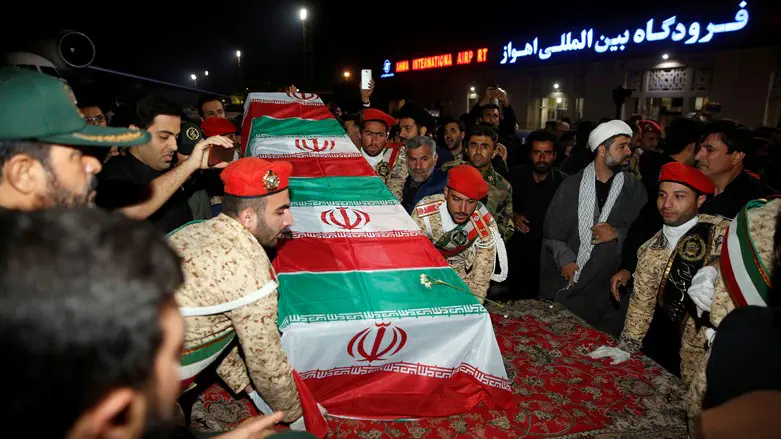 Funeral of Qassem Soleimani
Reuters
A Saudi soccer team refused to play a match in Iran on Monday because of the presence of busts of Iranian General Qassem Soleimani which were placed on the sidelines, The Associated Press reported, citing Saudi state media.
The Saudi Al Ittihad club was scheduled to play Iran's Sepahan in the Asian Champions League, one of several matches made possible by a recent diplomatic rapprochement between the longtime Mideast rivals that has recently come under strain.
However, the Saudi team did not take to the field because of busts of Soleimani, who headed Iran's elite Quds Force and was eliminated in a US drone strike in Iraq in January of 2020.
Soleimani is viewed as Iran's architect of proxy wars in the Middle East, including arming Yemen's Houthis rebels against Saudi Arabia.
Three busts of Soleimani had been placed along the sidelines for the teams to walk past on their way out of the tunnel, according to AP. After around 30 minutes of delay, the Saudi Arabian champion team, which had selected stars such as N'Golo Kante and Fabinho, signed from Chelsea and Liverpool respectively in the summer, left the Naghsh-e-Jahan Stadium where an estimated 60,000 fans were waiting.
Videos circulating on social media appeared to show angry Iranian fans chanting that politics should be kept out of soccer. Iranian media reported that the busts of Soleimani had been placed there three years ago, and that Al Ittihad had practiced in the stadium on Sunday.
The league said the Group C match was cancelled "due to unanticipated and unforeseen circumstances," without elaborating.
There was no official comment from Saudi Arabia or Iran.
This past June, Saudi Arabia's Foreign Minister, Prince Faisal bin Farhan Al Saud, walked out of a meeting with his Iranian counterpart in Tehran protest to a picture of Soleimani that was hanging in the room.
Prince Faisal immediately requested the venue of the press conference to be changed and the Iranian side complied, in a bid not to tarnish the newly revived relations between the two countries.
This past March, Saudi Arabia and Iran signed a China-brokered deal which stated that the two countries are to reopen their embassies and missions and implement security and economic cooperation deals signed more than 20 years ago.
Saudi Arabia broke ties with Iran in 2016 after protesters invaded Saudi diplomatic posts in Tehran and the northeastern city of Mashhad during demonstrations triggered by the execution of a prominent Shiite cleric and 46 others in the oil-rich Kingdom.
The deal is also expected to pave the way for a resolution to the conflict in Yemen, where Iran and Saudi Arabia back opposing sides.
US and Saudi officials said after the agreement was signed that Iran has agreed to halt covert weapons shipments to its Houthi allies in Yemen as part of the deal with Saudi Arabia.
Iran and Yemen have been on opposing sides in the conflict in Yemen. Saudi Arabia has been leading a military coalition backing Yemen's internationally recognized government, while Iran has aided the country's Houthi rebels.
Iran denies it is backing the Houthis and has also denied Saudi Arabian accusations that Tehran provided the Houthi rebels in Yemen with ballistic capabilities.
A UN-brokered ceasefire that took effect in April 2022 has largely halted the violence, and the relative calm continued even after it expired last October.