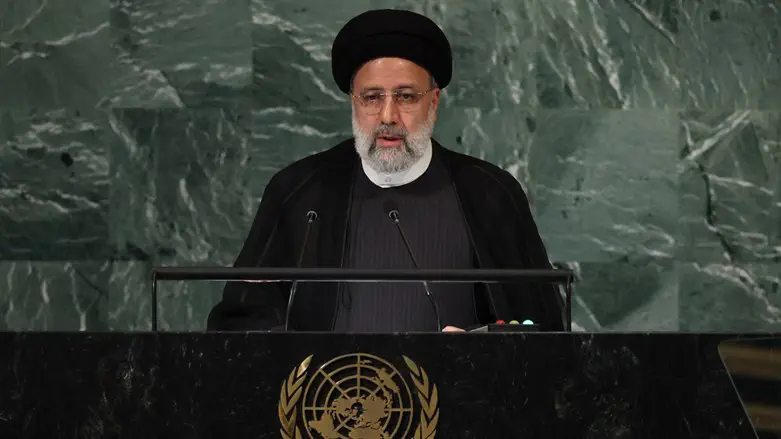 Iran's President Ebrahim Raisi addresses the 77th Session of the United Nations
REUTERS/Brendan Mcdermid
Iranian President Ebrahim Raisi on Sunday denounced any attempts by regional countries to normalize relations with Israel, calling such attempts "reactionary and regressive".
"Normalizing relations with the Zionist regime is a reactionary and regressive move by any government in the Islamic world," Raisi said during an international Islamic conference held in Tehran, as quoted by the AFP news agency.
Raisi further labelled any normalization attempt as the "foreigners' desire", while stating that "surrender and compromise" regarding Israel were not on the table.
"The only option for all the fighters in the occupied land and the Islamic world is to resist and stand against the enemies," he said, according to AFP, reiterating Iran's position that Jerusalem must be "liberated".
His comments come as Israel and Saudi Arabia are reportedly close to reaching an agreement on normalization.
Sources told Reuters on Friday that Saudi Arabia is determined to secure a military pact requiring the United States to defend the kingdom in return for opening ties with Israel and will not hold up a deal even if Israel does not offer major concessions to Palestinian Arabs.
Those comments came despite the fact that an Israeli-Saudi deal is widely expected to include Israeli concessions towards the Palestinian Authority, and Secretary of State Antony Blinken recently said that the Palestinian Arab issue will be part of a normalization agreement.
Prime Minister Benjamin Netanyahu said during his speech to the UN General Assembly last week that "I believe that we are at the cusp of a historic peace between Israel and Saudi Arabia. Such a peace will go a long way to ending the Arab Israeli conflict."
Two days before Netanyahu's speech, Saudi Crown Prince Mohammed bin Salman commented on the negotiations with Israel in an interview with Fox News.
"Every day we get closer, it seems it's for the first time real one serious. We get to see how it goes," he said, adding his country could work with Israel, no matter who is in charge and calling a potential deal "the biggest historical deal since the end of the Cold War."
Sunday's comments mark the second time that Raisi has criticized Saudi Arabia's efforts to normalize ties with Israel.
The Iranian President last week told CNN in an interview that efforts to normalize Israeli relations with Gulf Arab states, including Saudi Arabia, "will see no success".
"People in those Persian Gulf Arab countries have a great deal of hate for the Israeli actions, and this [normalization] was only obtained under American pressure," claimed Raisi. "The frame of thought of the Americans was that they are somehow creating security for the Zionist regime, whereas normalization of certain countries with Israel does not buy security for the Zionist regime."