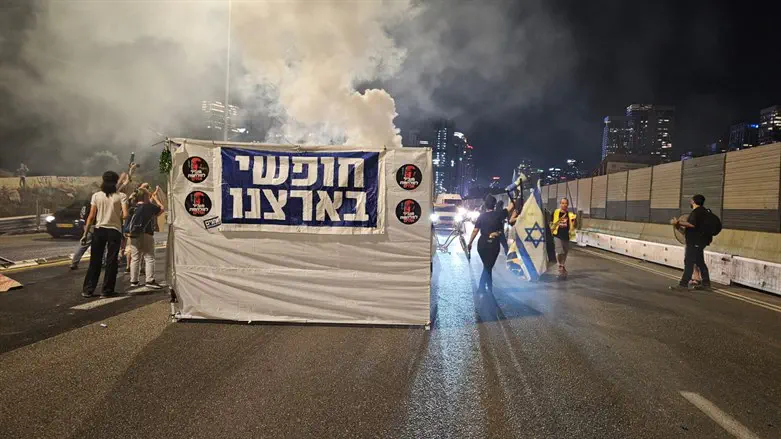 A protest sukkah set up on the Ayalon Highway
Kaplan Protest
Organizers of the anti-government protests in Israel on Saturday reported a low turnout and serious harm to their image, following the events of Yom Kippur (the Day of Atonement) in Tel Aviv.
"Friends, we need you for the march today," a Saturday afternoon message in the left-wing Plugot Haza'am (literally, "Companies of Rage") group read. "Our situation is not good, we are few in the face of a problematic reality."
"The protest has been pretty [badly] hit from this past week, with the public criticism of the opposition on Yom Kippur and the disagreements which were sparked among us, between good activists who went to an extreme and fought against the messianics' takeover of Dizengoff Square in Tel Aviv, and the leaders, who themselves were rightfully shocked from the loss of support from the public.
"Especially now, more than ever, we must raise our heads, support and give strength and encouragement, and leave the air conditioner and Netflix, to come to McDonald's Kaplan dressed in black, already at six-thirty, in order to march with us and continue to warn of the messianic and deceptive fascism which is quickly taking over Israel."
On Yom Kippur, left-wing protesters prevented a Yom Kippur prayer service with separate seating for men and women Dizengoff Square in Tel Aviv. Protesters who arrived at the place confronted the worshipers, destroyed the partition made of Israeli flags, and removed the chairs that the organizers had placed.
The prayer was eventually stopped and moved to a side street, and one of the demonstrators was detained for questioning. A group of protesters demonstrated outside the police station where the protester was being questioned.
פלוגות הזעםצילום: צילום מסך
Companies of Rage credit: screenshot