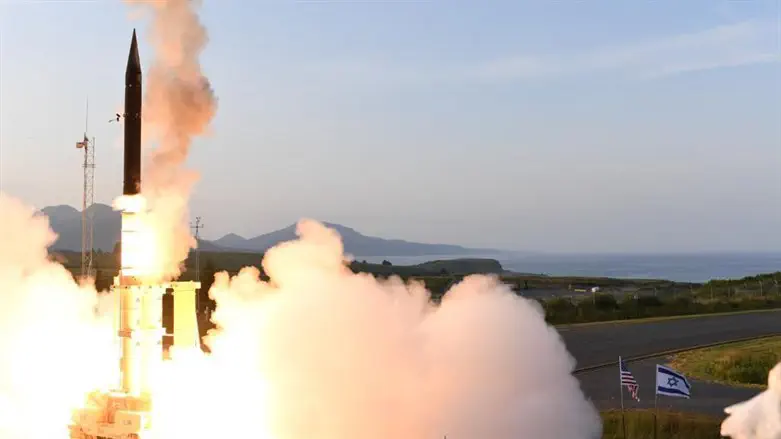 Arrow 3 missile defense system
Defense Ministry spokesperson
Today (Thursday) the Ministries of Defense of Israel and Germany signed a historic agreement for the delivery of the "Arrow-3" system to Germany - an agreement that amounts to $3.5 billion - the greatest to date.
On this occasion, a celebratory ceremony was held at the German Ministry of Defense in Berlin, hosted by Minister of Defense Boris Pistorius.
At the onset of the ceremony, the Ministers signed a joint declaration expressing their shared commitment to strengthening defense ties between their countries. This was followed by a brief signing ceremony during which the Director General of the Israel Ministry of Defense Eyal Zamir, and the Director-General of the Federal Office of Bundeswehr Equipment, Annette Lehnigk-Emden, signed the letter of commitment necessary to proceed with the Arrow-3 agreement. The letter discusses a commitment that amounts to $600 million and will enable the parties to begin working on the project immediately.
Following the ceremony, the Ministers delivered statements to the press.
"The "Arrow-3 for Germany" is the biggest agreement signed to date, and we are committed, to a timely and effective delivery. This agreement is tangible evidence that Israel and Germany are true partners," Gallant said. "Just as it [Arrow-3] guards Israel's skies and saves lives, now it will also defend Germany and its citizens, and may integrate smoothly, with NATO systems."
"Only 80 years since the end of the Second World War, yet Israel and Germany join hands today, in building a safer future, for both nations," he added.
"Today the State of Israel is prepared to expand our defense and industrial cooperation, with additional global partners.
"The Iranian fingerprint is everywhere – from the hundred thousand missiles provided by Iran to Hezbollah in Lebanon, to the weapons used for terror attacks against Israelis, and the missile attacks on our Gulf neighbors. The Iranian UAVs used to kill innocent civilians around the world serve as a preview for what the world will see if the missile embargo expires next month. Iran will have a free pass to spread advanced missiles around the world," he said.