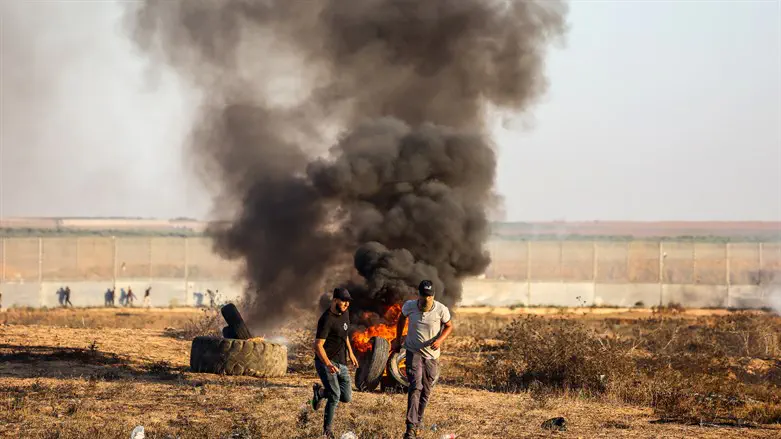 ההתפרעויות בעזה
צילום: Atia Mohammed/Flash90
The "Rebellious Youth," the group that has been organizing the violent riots and incendiary balloon launches at the Israel-Gaza border, announced on Thursday that its activities, including the balloon launches, would be suspended until further notice. According to a report by Maariv, which cited an announcement by the group in Gazan media, the group stated: "Whoever goes to the border will bear the responsibility."
Rioters amassed on the border several times this week, and terrorists launched incendiary balloons toward Israeli communities near the border. The balloons caused several fires in Israeli territory. During one of the riots, several rioters even crossed the fence from Gaza into Israeli territory, set fire to a military post, and returned to Gazan territory unharmed.
On Wednesday, despite the ongoing escalation, the Coordinator of Government Activities in the Territories (COGAT) announced that starting on Thursday, Palestinian Arab workers will be allowed to leave the Gaza Strip via the Erez crossing.
The crossing had remained closed in recent days following the escalation of the riots at the Gaza border.
"The continuation of the civilian policy will be possible based on the assessment of the security situation and on stability," said COGAT.