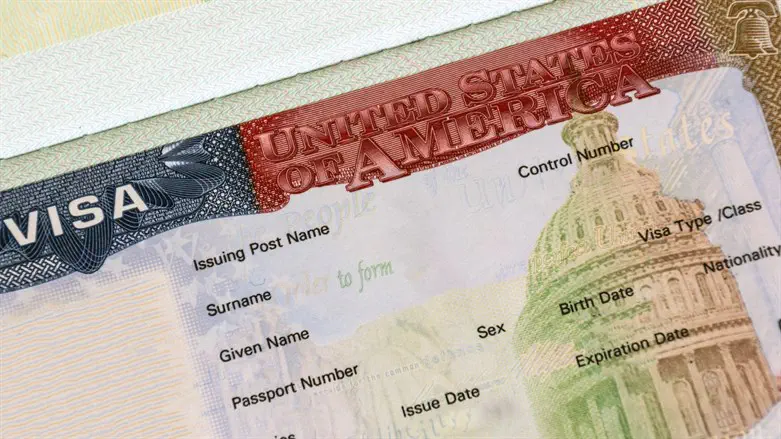 US visa
iStock
The Israel Heritage Foundation on Wednesday welcomed the Biden administration's decision to admit Israel into the US Visa Waiver Program.
"Too many times over the years law abiding Israelis missed important family celebrations in America and were made to wait sometimes months just to obtain a US Visa to visit family not to mention those coming as tourists. We know Israelis coming to America are law abiding and the decision will increase tourism and improve the US economy," said Farley Weiss, chairman of the Israel Heritage Foundation.
At the same time, he added, "As a result of the program, we are concerned of reports that the Biden administration is pressuring Israel to admit antisemitic Americans to Israel. Under the IHRA definition of antisemitism that the US State Department has adopted antisemites are those who support BDS, opposes Israel's existence, call Israel an apartheid state, and they should not be allowed to come to Israel. Any pressure by the US to call on Israel to admit such antisemites is wrong, needs to be changed and is opposed by the Israel Heritage Foundation. Israel should be making the decision of which Americans to admit without US pressure as Israel is responsible for the security of its citizens."
Weiss also said that the Israel Heritage Foundation "condemns the letter by 16 US Senators led by Senator Van Hollen and Senator Shatz and signed by Sens. Peter Welch (D-VT), Jeff Merkley (D-OR), Dick Durbin (D-IL), Tom Carper (D-DE), Tammy Baldwin (D-WI), Tina Smith (D-MN), Bernie Sanders (I-VT), Sherrod Brown (D-OH), Elizabeth Warren (D-MA), Tammy Duckworth (D-IL), Ed Markey (D-MA), Jack Reed (D-RI), Jeanne Shaheen (D-NH) and Martin Heinrich (D-NM) that demanded that Israel admit known American antisemites to Israel."
"Israel is responsible for their own border and their own security and should have the sole responsibility as to who to let into their country which should be law abiding Americans that are not security threats and are not antisemites. The fact that these senators attempted to prevent Israel's admittance into the US Visa Waiver program is wrong and we condemn their actions. We are gratified that the vast majority of US senators supported Israel's acceptance into the US Visa Waiver program," concluded Weiss.