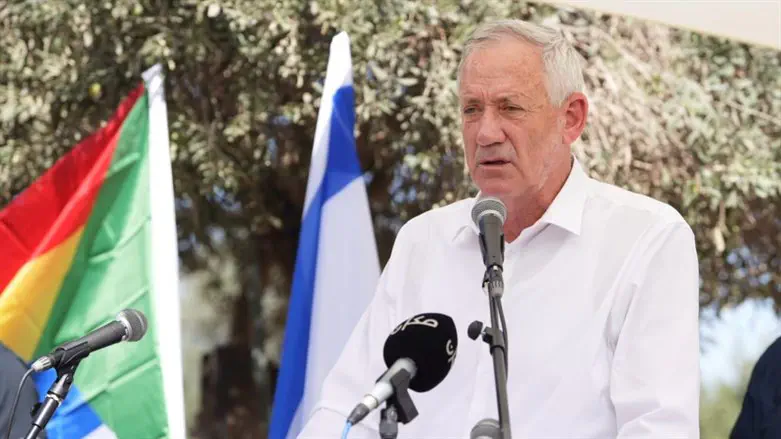 Benny Gantz
Elad Malka
During a memorial service on Wednesday for Nabiya Mar'i, a Druze-Israeli general who was killed in Gaza in 1996, National Unity chairman Benny Gantz spoke about the riots that disrupted Yom Kippur services in Tel Aviv's Dizengoff Square.
"I really hope that the altruism displayed by Nabiya will serve as an example in other places as well. I wish that this altruism would be discovered by all those who were involved in the embarrassing incident on Yom Kippur, during which, despite the Supreme Court ruling and because of the will to pray with a partition in Tel Aviv on one end and the will to supposedly 'protect the public sphere,' violence was used against worshipers on the holy day, and the service was disrupted," Gantz stated.
He added: "Individuals on both sides took the law into their own hands, and the mutual respect for each other disappeared. Both sides need to think, and all of us as a society do as well."
Gantz also discussed the security situation in southern Israel: "If Hamas thinks that the way to advance civilian diplomacy is by burning fields and terrorism in the region, the result needs to be and will be the complete opposite. The incendiary balloons and the terrorism on the fence are a test balloon that needs to pop and cause great damage if it doesn't stop.
In contrast, calming down and advancing the return of prisoners could change the direction. I know that the defense establishment has all the tools to return peace to this important and beautiful area," he added.