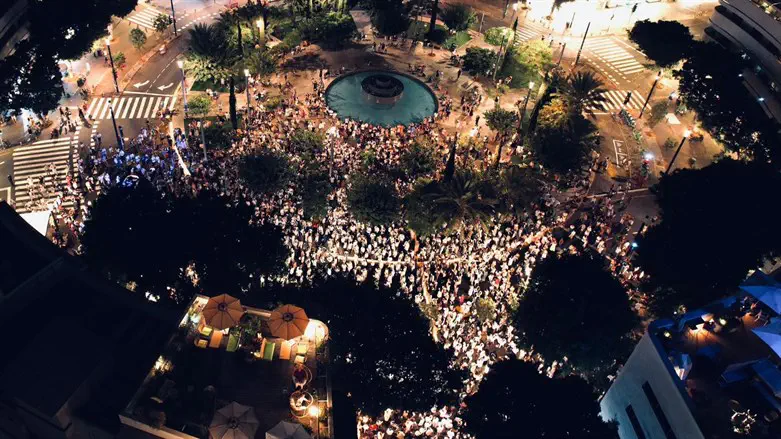 Neilah at Dizengoff in quieter years
Lior Berkowitz
The violent demonstrators in Tel Aviv on Yom Kippur claim to be demonstrating on behalf of democracy, in fact they are demonstrating against freedom of expression. The services were not a manifestation of democracy or its absence as we could have public Yom Kippur services under the rule of a monarch, but the demonstrators don't seem to understand the difference.
Freedom of expression, before and after the vote, is, however, a critical democratic value and by demonstrating against it the demonstrators are exposing the lie of their claim to democracy.
The demonstrations against the services were against freedom of expression, something that the demonstrators themselves applied to themselves by demonstrating, though they showed a shocking lack of understanding the significance and fair application of the issue. There is no doubt both sides were acting in the context of democracy, one within the law, one outside the law, and the response should have reflected that.
No one was forcing those who came out to demonstrate against the public Yom Kippur services to take part in the services, which is proof that the services themselves are a reflection of the democratic nature of Israel, various perspectives are allowed, debated and manifested.
The fact that the services were held in a public place is proof of freedom of expression.
Those who chose violence and obstruction in their demonstration against the services are opposing all the accepted democratic norms and values and are clearly aligning themselves against democracy.
If the demonstrators want to limit public or private expressions of Judaism in Israel (they have shown a clear disinterest in the same against public expressions of Islam or Christianity) they are welcome to present a resolution to that effect for a democratic vote, anything else is a clear manifestation of bias, coercion and tyranny.
We should all be proud of the services held in Dizengoff Circle, whether we took part or not, and clearly call out the demonstrators for the fraud of claiming democracy with their tyrannical, anti-democratic ways.
Paul Rotenberg lives in Toronto and is Vice-President of the Toronto Zionist Council and is editor of the TZC weekly newsletter about Israel and the Jewish World, available from [email protected]. He and his wife have five children, two of them IDF soldiers