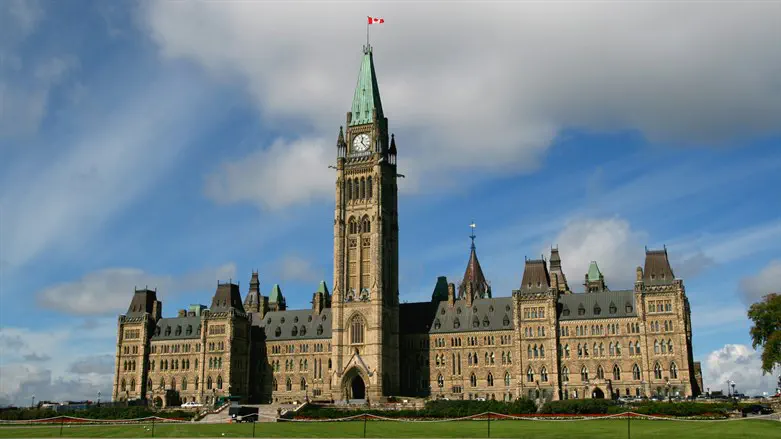 Canadian Parliament
iStock
Several Jewish advocacy organizations are condemning members of Canada's Parliament for giving a standing ovation to a man who fought for a Nazi unit during the Second World War, The Canadian Press reported on Sunday.
The incident occurred during Ukrainian President Volodymyr Zelenskyy's visit to Ottawa this past Friday.
During the visit, MPs honored 98-year-old Yaroslav Hunka in the House of Commons. Hunka was invited by Speaker Anthony Rota, who introduced him as a "war hero who fought for the First Ukrainian Division."
CP noted that that division was also known as the Waffen-SS Galicia Division, a voluntary unit that was under the command of the Nazis.
In a statement on Sunday, Friends of Simon Wiesenthal Center (FSWC) said it was deeply disturbed over the Canadian Parliament's recognition of Hunka, adding that it "is further outraged that parliamentarians in the House of Commons gave a standing ovation to the former soldier on Friday."
"The fact that a veteran who served in a Nazi military unit was invited to and given a standing ovation in Parliament is shocking. At a time of rising antisemitism and Holocaust distortion, it is incredibly disturbing to see Canada's Parliament rise to applaud an individual who was a member of a unit in the Waffen-SS, a Nazi military branch responsible for the murder of Jews and others and that was declared a criminal organization during the Nuremberg Trials. There should be no confusion that this unit was responsible for the mass murder of innocent civilians with a level of brutality and malice that is unimaginable," said FSWC.
"An apology is owed to every Holocaust survivor and veteran of the Second World War who fought the Nazis, and an explanation must be provided as to how this individual entered the hallowed halls of Canadian Parliament and received recognition from the Speaker of the House and a standing ovation," it added.
B'nai Brith Canada also condemned the incident in a statement issued on Sunday.
"We cannot allow the whitewashing of history," said Michael Mostyn, B'nai Brith Canada's Chief Executive Officer. "It is beyond outrageous that Parliament has honored a former member of a Nazi unit in this way. Canadian soldiers fought and died to free the world from the evils of Nazi brutality."
"We understand an apology is forthcoming. We expect a meaningful apology. Parliament owes an apology to all Canadians for this outrage, and a detailed explanation as to how this could possibly have taken place at the center of Canadian democracy," he added.
(Israel National News' North American desk is keeping you updated until the start of Yom Kippur in New York. The time posted automatically on all Israel National News articles, however, is Israeli time.)