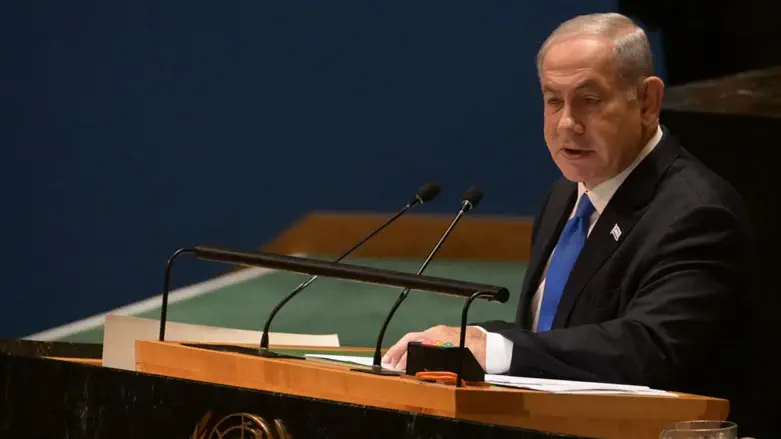 Netanyahu addresses the UN General Assembly
Avi Ohayon/GPO
Prime Minister Benjamin Netanyahu took off on Saturday night from New York and headed back to Israel after his diplomatic visit to the United States.
In a conversation with reporters on the plane, Netanyahu said, "We met with about 20 statesmen and heads of state from five continents, we almost circled the world. I think there are many achievements in this visit, and we intend to bring many good things to Israel."
Netanyahu also noted that "this time the speech at the UN was broadcast live not only on networks in the United States, but also in Saudi Arabia - and this is of course a blessing for next year."
About 300 people demonstrated outside the hotel where Netanyahu was staying in New York before the delegation left for the airport. The protesters shouted "shame" and "democracy".
Meanwhile, Saudi Foreign Minister Prince Faisal Bin Farhan spoke at the UN General Assembly.
In his speech, the Saudi Foreign Minister reiterated the kingdom's stance that a Palestinian state is part of the solution in the Middle East, and did not mention Israel.
"The stability of the region rests on a just and comprehensive solution for the Palestinian cause, and the establishment of a Palestinian state based on 1967 borders with East Jerusalem as its capital," said Prince Faisal.
He added that his country "rejects and condemns all the unilateral steps that constitute a blatant violation of international laws and which contribute to the collapse of regional and international peace efforts and are hindering the path of diplomatic solutions."
According to reports in Israeli media, Israel sent a diplomatic representative to the hall during the Saudi Foreign Minister's speech, even though the speech took place during Shabbat.
There was no mention of Israel in the speech despite Netanyahu's comments on the efforts for normalization with Saudi Arabia, in his speech before the General Assembly on Friday.
"I believe that we are at the cusp of a historic peace between Israel and Saudi Arabia. Such a peace will go a long way to ending the Arab Israeli conflict." He further went on to describe a planned corridor connecting the Arabian peninsula, Israel, and Europe, to allow for travel, shipping, and energy pipelines between all of the countries involved," said Netanyahu.