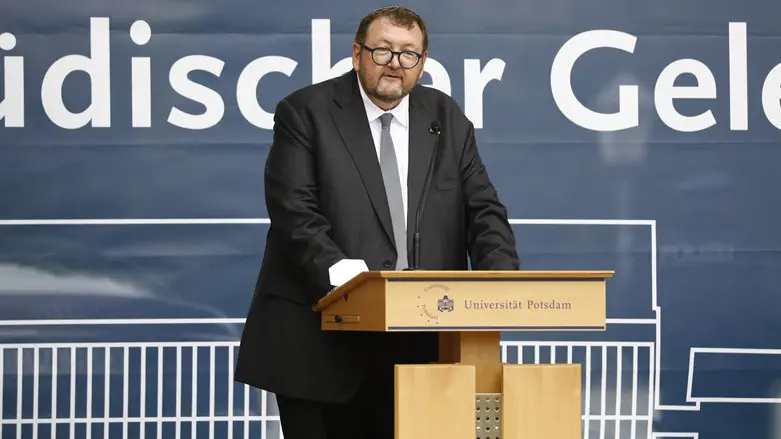 Walter Homolka
REUTERS
A long-awaited final report has arrived in the investigation of a leading German Reform rabbi and his partner after allegations of abuse of power and sexual harassment against them erupted last year.
Clocking in at 806 pages, the report by a prominent German law firm concludes that Rabbi Walter Homolka "was responsible for alleged misconduct, although he himself denies this," and that radical "structural changes are necessary to prevent misconduct in the future."
Those changes must cut deep, the investigators from the Cologne-based firm of Gercke Wollschläger added: It is not enough that Homolka took temporary leave from some positions, if those posts are now held by individuals who are beholden to, dependent on, or "feel 'connected' to him."
They also concluded that it was not sufficient to transfer his ownership stake to other institutions — as Homolka did in January — and that it would not be appropriate to found new institutions if these "are also within the sphere of influence of the person from whom the alleged misconduct emanates."
The report concludes an investigation commissioned in May 2022 by the Central Council of Jews in Germany, the country's main Jewish administrative organization. Investigators conducted more than 70 interviews over several months before releasing an executive summary in December that found that abuse of power and sexual harassment did occur at Germany's liberal rabbinical seminary.
That 44-page summary drew legal challenges from Homolka, who continues to dispute the claims, and the final report reflects slight revisions based on a Frankfurt court's decision to bar some references to possible criminal misconduct. Still, Central Council President Josef Schuster said the publication "does justice to the courage" of those who bore witness to the investigators. In all, 74 people testified to the investigators.
"In Jewish organizations and institutions, Professor Homolka has already lost most of his influence today," Schuster said in a statement issued last week. "After the results now published, I cannot imagine that anything will change in this regard."
Homolka was a founder and director of several German Jewish institutions when the allegations against him broke into public view in May 2022. The latest report by Gercke Wollschläger lays out numerous instances of alleged abuse of power and sexual harassment, particularly at the Abraham Geiger College, the Reform rabbinical seminary at the University of Potsdam that Homolka founded and directed. The Central Council was its largest funder.
The University of Potsdam conducted its own investigation, concluding that "many respondents stated on the record that Mr. Homolka had created a 'climate of fear' that had a restrictive effect on the actions of students and of staff." The university did not investigate Homolka's husband, who was the object of some accusations but had already been fired by then.
That report, released in October 2022, found no indications of criminality, and so Homolka retains his professorial position.
Homolka and his partner — German law bars publication of his name — have denied all allegations. In a statement last week, their attorney, at Gessner Legal, described the investigation as "a campaign" designed to "silence our client and to destroy his reputation through groundless accusations and suspicious statements." Though some elements were removed from the final report, "diffuse, unsubstantiated accusations of abuse of power below the threshold of criminal law have remained," Gessner wrote.
Homolka had stepped down or withdrawn from numerous posts in Jewish institutions, including the Abraham Geiger College, after the allegations came to light in May 2022. In January, he sold all shares of the Geiger College and its conservative sister school, Zacharias Frankel College, which he owned, to the Jewish Community of Berlin.
Geiger's newly appointed leader, Rabbi Andreas Nechama, acknowledged in a pre-Rosh Hashanah mailing dated Sept. 7 "that the founding of the college has been fraught with hurt and pain" and apologized "to all who feel these hurts and injuries."
The Reform seminary is not the only institution with ties to Homolka to come under scrutiny. Several institutions of liberal Judaism agreed to cooperate with the law firm's investigation, according to the Central Council.