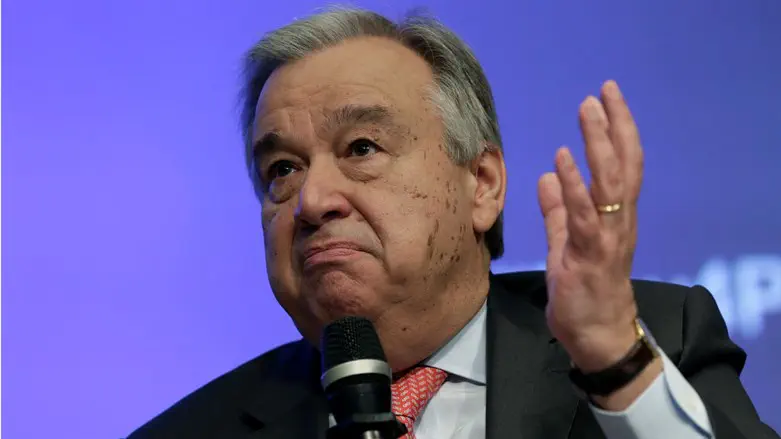 Antonio Guterres
Reuters
UN Secretary-General Antonio Guterres will visit the Palestinian Authority (PA) in October, Xinhua reported on Thursday, citing the PA's official news agency WAFA.
Guterres informed PA chairman Mahmoud Abbas of his upcoming visit during a meeting on the sidelines of the United Nations General Assembly in New York, according to the report.
It will be Guterres' first visit to PA-assigned territories since 2017, when he traveled to Judea and Samaria and the Gaza Strip.
During their meeting in New York, Abbas discussed with Guterres "the necessity of binding Israel to all agreements signed with the Palestine Liberation Organization and stopping its unilateral measures," reported WAFA.
For his part, Guterres expressed hope that the Palestinian Arabs will obtain their rights and that the "State of Palestine" will become a full member of the United Nations, the report added.
In 2012, the UN General Assembly overwhelmingly approved the de facto recognition of the "state of Palestine" when it upgraded the PA's UN observer status to non-member state.
The PA then said it would seek to become a full member of the UN, which would amount to international recognition of Palestinian statehood, but dropped that effort in 2019.
On Wednesday, Guterres met with Prime Minister Benjamin Netanyahu, who demanded that the UN Secretary-General change the attitude of UN institutions toward Israel. Netanyahu said it was untenable that while major changes for the better were taking place in the world and the Middle East, the UN was unaffected and remained steadfast in its hostility to Israel.
Prime Minister Netanyahu added that "the time has come for the UN to condemn Iranian subversion and Palestinian terrorism against innocent civilians, and to refrain from its baseless criticism of Israel."