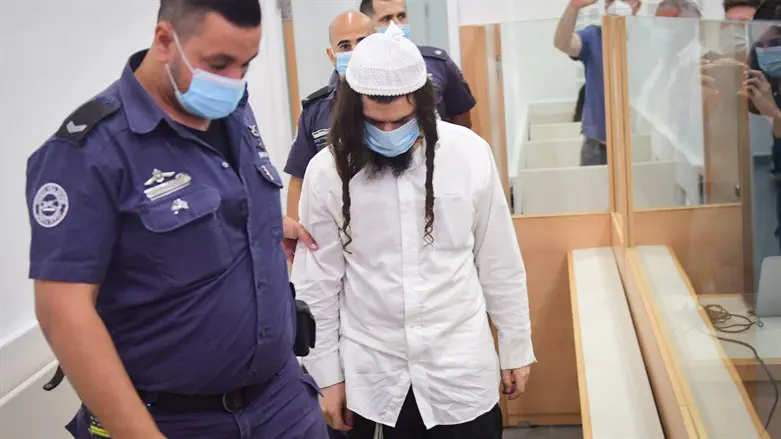 Amiram Ben Uliel
AVSHALOM SASSONI/POOL
Right-wing commentator Yinon Magal harshly criticized the campaign led by members of the Israeli right to support Amiram Ben-Uliel, who was convicted of the murder of the Dawabsheh family in Duma.
In a monologue during Channel 14's "Hapatriotim" panel show, Magal said: "I think people have gone off the rails here. I think that he is undoubtedly guilty, and he was convicted. He gave unknown details that the investigators didn't know of."
Magal listed the details that Ben-Uliel gave during his interrogation: "The screen, they didn't know that the window had a screen, the vehicle that was at the scene, which he knew about before the police did, the way he reenacted it that he went by himself and showed where everything is, and the bottles, that he knew they were beer bottles."
He added: "I have no doubt that he was legally convicted, the judges also wrote that. I read the verdicts, I think people here have gone off the rails.
In conclusion, Magal declared: "This is an abominable murderer who murdered a small child, and I don't think the right needs to toe the line with this group of the crazies, I completely disavow this campaign. Regarding the conditions (that Ben-Uliel is being kept in), we need to check."
Right-leaning Channel 12 commentator Amit Segal also called out the movement to support Ben-UIiel, writing on Twitter: "The defense of Amiram Ben-Uliel disgusts me. There are hundreds of murderers in prison; none of them received the support of a quarter of the coalition, and none of their attorneys serve on the cabinet."
He added that "the defense of him, in the guise of a legal examination of his confessions, doesn't come out of nowhere, and it joins the mass letters in the coalition in support of the most disgusting administrative detainees which aim to incite, fan the flames, and to uproot.
After the previous coalition with the United Arab List and the current one, it will be a breath of fresh air to have a coalition that doesn't visit convicted murderers in prison or take photos with them."
Segal was, in part, referring to the speech by MK Limor Son Har-Melech (Otzma Yehudit) earlier in the week, in which she said she was not supporting a murderer since she was convinced that Ben-Uliel was non guilty. "I know he's innocent, I think he's suffering for all of the people of Israel," she proclaimed.