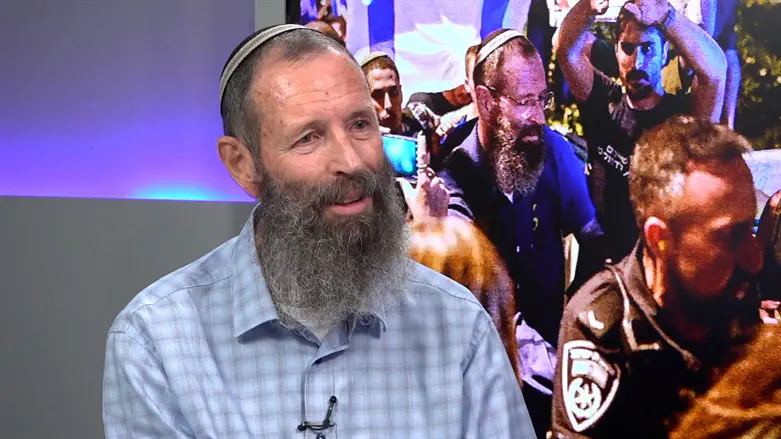 Rabbi Levinstein
Israel National News
In a special interview with Israel National News, Rabbi Yigal Levinstein, head of the Bnei David pre-military academy in Eli in the Binyamin region, tells about how last night his way to the lecture he was asked to deliver in Tel Aviv was blocked by protesters, and how it was only with the help of police that he was able to deliver the lecture.
"It was a special experience. I did not experience any personal violence because the police behaved there in a special way, protected me, and guarded me, both when entering and when leaving," said Rabbi Levinstein, noting that it was difficult for him to enter the place because a physical confrontation developed between the protesters and the police, but he cannot speculate how things would have developed without the presence of the police.
Regarding his feeling towards the protesters at that time, Rabbi Levinstein says that these things reveal how confusing imaginations are. "After all, we came to teach Judaism in the most liberal city that has the most people interested in Judaism, we came to teach a class between Rosh Hashanah and Yom Kippur, and I think they are afraid of the general process of the strengthening of Judaism in Israel, and in the city of Tel Aviv."
"Tel Aviv is a liberal city and the intention is that all opinions should be heard and deserve to be heard. Suddenly they came under pressure when more and more Judaism entered. What are they afraid of? It's ignorance and lack of knowledge," says Rabbi Levinstein, who believes that the protesters do not represent the Tel Aviv mainstream. "Most of the Israeli mainstream loves Judaism and cherishes Judaism. The militant group sees Judaism in an alarming way. They talk about racism against Arabs, misogyny against women, harming LGBT people, but it's all slogans. They have no idea what Judaism is."
Rabbi Levinstein tells about a small incident at the end of the lesson that ended up taking place when outside the building the demonstrators were blowing their horns and trying to interfere. At the end of the lesson, one of the students who was present approached Rabbi Levinstein and told him that he had arrived there as part of the protest, but decided to slip inside and listen to what the Rabbi had to say. he assured Rabbi Levinstein that he had enjoyed the lecture.
"I told him to call everyone," says the rabbi. "I think that those who have an open heart and a soul willing to listen to what Judaism really is should not only not be frightened, but will fall in love. When the truth of the Torah touches a Jewish heart, it awakens the Jewish heart. After all, they are all Jews, even those on the other side, those who protest. They are also looking for truth ".
Regarding the protesters' calls for him to leave Tel Aviv for Jerusalem, Eli, or any other place, the Rabbi said: "I think this goes against the principled worldview of the concept of liberalism. They talk about liberalism, democracy, and freedom. Freedom is my willingness to fight for your right to speak even if your statements seem to me to be completely wrong. If they were true liberals they should be happy that I am coming to Tel Aviv. After all, I infuriate them, upset them, and say opinions that are opposite to theirs, and they should have been the first to say 'Congratulations for coming to the liberal city that carries the flag of liberalism, pluralism, and freedom! We invite those who disagree with us 100 percent.' This is liberalism. But it stopped being liberalism and became silencing, suppressing, and moving away from democracy and freedom. It is becoming more and more a dictatorship and gagging and I hope that Tel Aviv will become liberal again."
Rabbi Levinstein also referred to the way to argue and create a different, more attentive, and inclusive discourse, and stated that his feeling is that interest in the world of Judaism is increasing. "More and more people want the truth and not appearances and appearances. Rabbi Zvi Yehuda taught us about the two basic concepts, faith, and love, and I think we should add another one, courage. Over time, this will bear fruit. We should not be alarmed or excited. The truth is neither cowardly nor timid, but it is progressing slowly. You have to voice the things and say them with good taste, in-depth, and seriously, treat each person in the most serious way, not be drawn into provocations and hateful slurs."
The rabbi talks about many conversational circles with which he is in contact and in which Jews show themselves at their best, the disputes exist but it turns out that there are no disputes in their hearts. "I met the leaders of the protesters in a lot of places. In an open dialogue and yes, everyone tells thei truth in their life and that's fine, there are disputes and that's fine, it's good to put the disputes on the table and that's fine, but you have to keep love in your hearts and that's the secret to living here together."