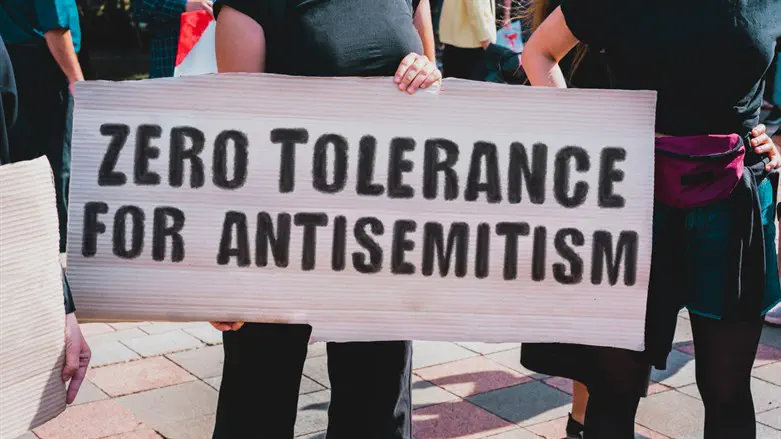 Antisemitism
ISTOCK
(1) University of Pennsylvania (UPenn) receives federal funds, and is therefore required to provide a harassment-free learning environment for its Jewish students under Title VI of the 1964 Civil Rights Act. The "Palestine Writes" festival incites harassment and attacks on Jewish and pro-Israel students. Holding "Palestine Writes" is therefore a civil rights violation that may result in UPenn losing its federal funding.
(2) The university cannot guarantee protection of Jewish students in an environment influenced by the unabashed antisemitic operatives speaking at this event, including:a convicted Palestinian-Arab terrorist; many speakers who support designated terrorist groups, including Hamas, Palestine Islamic Jihad, Hezbollah, Iran's Islamic Revolutionary Guard Corps (IRGC), Turkish terror group IHH, the Fatah/PLO Al-Aqsa Martyrs' Brigades; many speakers who support and have assisted convicted terrorists; many speakers who incite and call for Intifadas (terror wars against Jews, in which thousands of Jews have been murdered and maimed); and notorious antisemites, such as Roger Waters, who uses Nazi imagery to malign Jews.
(3) Removing this event from U. Penn would not inhibit free speech. "Free speech" does not require the university to host or support hate speech, or speech that it disagrees with. The university has the right to decide who to sponsor and who uses its facilities to speak.
(4) UPenn has already set the precedent of punishing speech that it disagrees with, contradicting its claim that it is unable to exercise any authority over the "Palestine Writes" event. Another event also makes clear that Penn is selective about which "free speech" it protects. For example, UPenn has taken, or tried to take, actions against Professor Amy Wax, M.D., JD due to her controversial statements about Black law students' achievement. The university took a class away from her, tried to sanction and fire her despite her tenure, and harassed her. We are not saying that we agree with Wax's views but the University never defended Amy Wax's controversial statements under their freedom of speech thesis. UPenn is therefore obligated to take action against the "Palestine Writes" hate-fest, or else must admit to endorsing antisemitism and accept the consequences, in accordance with U.S. law.
(5) The university is failing to take responsibility for its own department(s) that are co-sponsoring "Palestine Writes." UPenn gives funds to these departments, which in turn are co-sponsoring and providing resources to "Palestine Writes."
(6) Students for Justice in Palestine (SJP)'s UPenn and Temple U branches are co-sponsors of "Palestine Writes", and many speakers are involved with SJP. As ZOA explained in its open letter to UPenn leaders: SJP activists systemically intimidate, harass and have even physically assaulted Jewish and pro-Israel students. SJP aggressively disrupts pro-Israel events – and screams for Israel's destruction and "Intifada! Intifada!" (The murder of Jews). Hosting any event with SJP is antithetical to allowing free speech, and the university would be well within its rights to not allow the event.
In fact, Fordham University successfully denied SJP official club status on its campus, and won the ensuing litigation for this very reason. The New York State Appellate Division opined that Fordham University's decision to deny official club status to SJP was appropriate because "the proposed [Fordham SJP] club, which would have been affiliated with a national organization [SJP] reported to have engaged in disruptive and coercive actions on other campuses, would work against, rather than enhance, respondent's commitment to open dialogue and mutual learning and understanding. . ." (Awad, et al v. Fordham Univ., N.Y. App. Div. 1st Dept., Dec. 20, 2022.)
(7) "Palestine Writes" is not actually about promoting arts. The content that is being celebrated and called "art" (films, children's games, poems, etc.) consists of numerous speeches by Jew-haters, and is all being used for the purpose of promoting hatred against Israel and Jews, and annihilating Israel and replacing Israel with "Palestine." (See details in ZOA's open letter about the "Palestine Writes" program and speakers confirming this.) The Palestinian Authority pays terrorists to murder Jews; and Hamas' charter calls for the murder of every Jew. These are the entities that "Palestine Writes" wants to replace Israel with.
(8) Holding "Palestine Writes" at UPenn sets a dangerous precedent that will inspire more Jew-hatred and attacks on Jews around the country.
(9) UPenn will have a dramatic drop in donations. Many donors are vowing to not give UPenn another penny ever, due to this hate-fest, and the value of this prestigious Ivy League university will plummet.
For more details, see ZOA's open letter to UPenn leadership.
See ZOA's Action Alert for the names and contact information of UPenn leaders to write to, to demand that they stop supporting and hosting this dangerous antisemitic Israel-bashing event.
For more details, see ZOA's open letter to UPenn leadership.