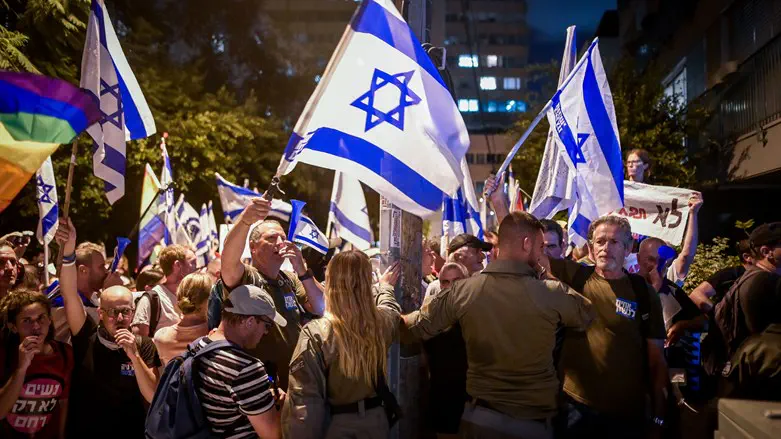 protest against Rabbi Levinstein
Avshalom Sassoni/Flash90
MK Matan Kahana condemned the attack in Tel Aviv last night (Tuesday) against Rabbi Yigal Levinstein, head of the Bnei David pre-military academy in Eli.
"I am friends with Rabbi Levinstein and I also disagree with him on many issues. But it must be understood that religious Zionists are currently considered to be the ones who are creating the greatest divisions in Israeli society thanks to those who have hijacked the brand of 'religious Zionism,'" he said.
Kahana revealed that when he served as Religious Affairs Minister under the previous government, he met with Tel Aviv Mayor Ron Huldai to discuss Huldai's reluctance to appoint a Chief Rabbi for the city.
"I came to Huldai and asked him to choose any city rabbi he wanted, he said 'I don't want a chief rabbi in Tel Aviv', I told him that in the end, they would force him to appoint a rabbi that he wouldn't have a choice then.
He accused the current government of "pushing people away from Judaism. The government is controlled by the most extreme elements. Netanyahu is held by the throat by Smotrich and Ben-Gvir in policy, and by the haredim in matters of religion and state."
According to Kahana, "Most of the public would like to see things done differently. The previous government encompassed both political extremes and fell apart. This government encompasses just one extreme and will fall apart in the end. The next government in Israel will have to encompass the center."
The attack on Rabbi Levinstein was also condemned by MK Kahana's party chairman, Benny Gantz.
Gantz wrote: "The calls and actions which were at the brink of violence from last night's demonstration in Tel Aviv, along the ugly statement of Ron Kofman - it is good that he retracted it - are alarming and deserve condemnation."
He added: "Especially since we are the liberal camp, we must make sure that we don't throw the baby out with the bath water. A fierce and determined protest - yes. Generalizations against an entire population, incitement, and violence - are off-limits."