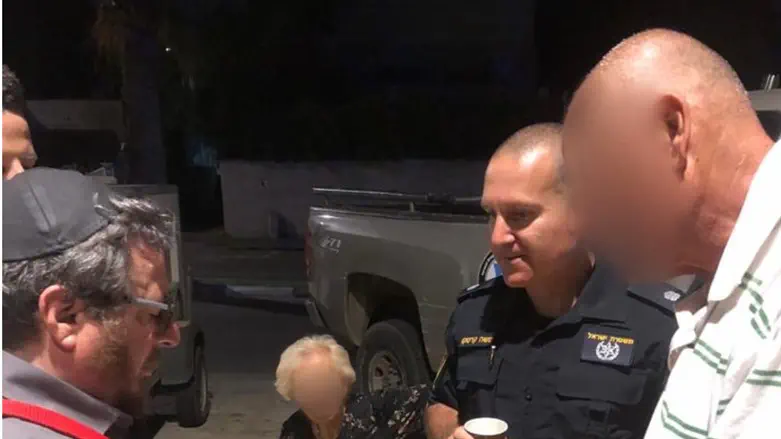 IDU director Yekutiel Ben-Yaakov and Herzliya police commnader Moshe Caraso
IDU Press Release
An 80-year-old man who had been missing for a full day was located trapped in an elevator in the Daniel Hotel in the Herzliya area.
The man in question left his wife in the cafe of the hotel, telling her that he would be back in a few minutes. When he did not return, local police began a search for him and began dispatching volunteers with off-road vehicles to search nearby fields.
Due to the man's age and his history of dementia, the search was classified as a high-risk case. Moshe Caraso, commander of the Herzliya Station of the Israel Police, contacted the Israel Dog Unit (IDU), a nonprofit specializing in search and rescue, to assist in the effort.
An IDU spokesperson reported that the organization suspended a training exercise in northern Israel to handle the incident, and brought a number of teams to the hotel. The search effort included monitoring all entrances and exits of the hotel and checking every room in the building.
At 1:40 a.m., the missing man managed to press the emergency alarm in the elevator where he had been since the previous morning, without anyone noticing.
The IDU reported that attempts to access the hotel's security cameras were impeded by a technical malfunction and that the elevator had been stuck closed by technical malfunctions. The Daniel Hotel stated that there were no malfunctions in the hotel's systems.
The son-in-law of the missing person announced, "I am from Tel Aviv, but I will look for a synagogue to say prayers of penitence and thank God that my father-in-law has returned to us alive and well."
He also proposed to sponsor the IDU's stay at the hotel for the rest of the night.
IDU director Yekutiel Ben-Yaakov commented:" We could not accept this generous offer, because the real heroes are the dogs, and the hotel will not agree to rent rooms for five energetic Belgian Malinois dogs. It is better for us to recruit you as volunteers to help us search for more missing people. Now you understand that everyone can be missing like Doctor M. No one is immune to dementia, disorientation, or other illnesses."
The missing person was taken for further medical examination at Ichilov hospital, where he had served as a senior doctor for a number of years.