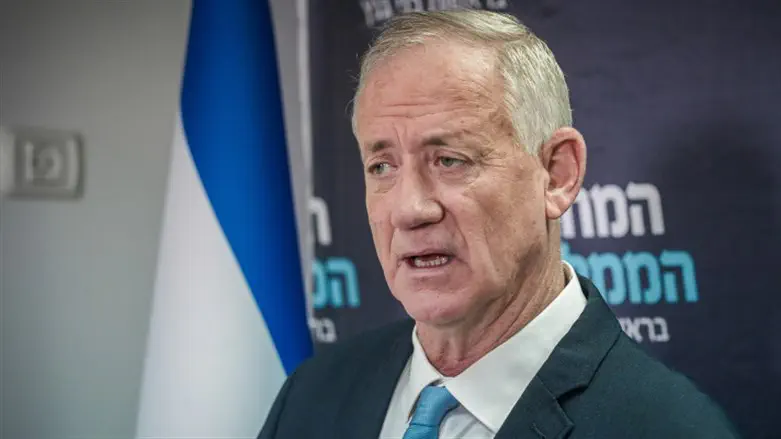 Benny Gantz
Avshalom Sassoni/Flash90
National Unity party chairman MK Benny Gantz convened his party for a meeting in Maccabiah following the passage of the Reasonableness Standard bill in June to discuss their options following the passage of the first judicial reform bill, Kan News reported.
During the meeting, media personality Avishai Ben Haim and a professor from Tel Aviv University came to give lectures on the question of 'Judicial reform: To where?'
Gantz raised the question of how the party should respond in the event that in the future it is asked to join the government. He allowed each MK to express their opinion on the issue.
Party members who were present at the meeting said that there were those who opposed the possibility and some who supported it, but according to them, the very discussion indicates that there is a possibility for discussion on joining the Netanyahu government for a second time.
About a month ago, National Unity party MK Matan Kahana proposed an outline for a unity government in which Prime Minister Benjamin Netanyahu would continue to serve as the leader of the government for the remainder of its term but would retire from political life in two years when the next Knesset elections are held.
Kahana wrote: "Do you really think that there is a better solution than this to the deep rift which the country finds itself in now? Such a government will be able to heal the deep internal divide between us, and provide a place for all parts of Israeli society."
"Such a government would reunite the army and handle the external threats which are increasing around us," he claimed. "Such a government will be able to put together a constitution, or at the very least legislate a group of Basic Laws which will better balance the division of power between the branches of the government."
"Such a government will bring peace with Saudi Arabia. Such a government will rehabilitate the economy and renew the world markets' faith in Israel. Such a government will bring the quiet which we all long for so deeply. A quiet that is not mud. A quiet of blessing. In the past year, I have merited to deepen my acquaintance with Benny Gantz. I have come to realize that as he has proven in the past, for him, Israel really is above all else," Kahana said.