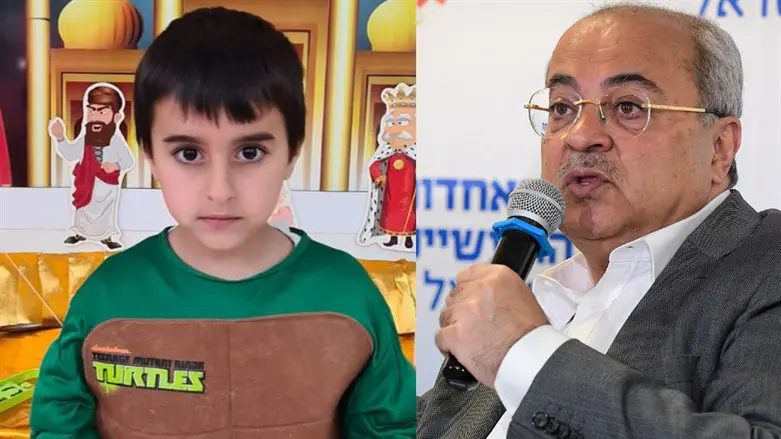 Ido Avigal (L) had his photo appropriated by Ahmad Tibi (R)
Avshalom Sassoni/Flash90 ובאדיבות משפחת אביגל
MK Ahmad Tibi (Hadash-Ta'al) published photos which he claimed were photos of children and infants hit by IDF fire - but included a photo of Ido Avigal, a five-year-old Israeli killed by Gaza rocket fire in 2021.
Shani Avigal, Ido's mother, was shocked to see her dead son's face among the photos.
"Hey Ahmad, what's up, do you hear me?" she wrote on X, formerly Twitter. "It's totally fine to take all sorts of kids, put them in one photo, and tell the world that the IDF killed them, but is there a chance that you could take the photo of my child off there? I am pretty sure Hamas killed him, and injured my daughter, and my nephews, and myself. But I'm not a kid, so whatever. Ah, yeah. They fired at a home!"
Deputy Minister Michal Woldiger (Religious Zionism) responded: "Ahmad Tibi, you are still a member of the Israeli Knesset. This is too much! To publicize a photo of Ido Avigal, may G-d avenge his blood, who was killed by a rocket launched by Hamas towards his home, and to present him as if he was killed by the IDF?! And in general - you know very well that the IDF is the most ethical army in the world. To you the goal justifies the means, including twisting information and using children, even in their deaths. Shame on you!"
Journalist Yehuda Shlesinger wrote: "This morning as well, it is important to correct the damage and remind: The IDF does not blow up homes with children." Tibi responded to his tweet by posting three photos of children and infants and writing cynically, "Other than the times it does."