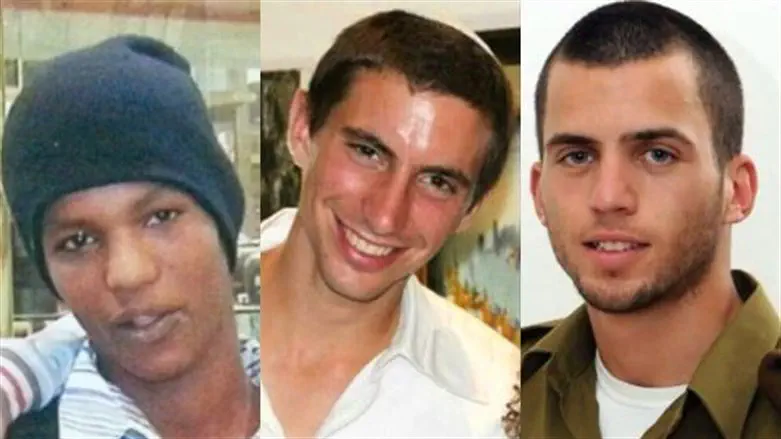 L-R: Avera Mengistu, Hadar Goldin, and Oron Shaul
Courtesy of the families
Students at the Kfar Batya school where fallen IDF soldier Hadar Goldin studied on Monday launched an initiative to bring Goldin's body home, together with the other Israelis held in Gaza.
Goldin fell during 2014's Operation Protective Edge, and Hamas has held his body and that of fellow fallen soldier Oron Shaul since that time. In addition to the fallen soldiers' bodies, Hamas is also holding captive two mentally-ill Israelis, Avera (Avraham) Mengistu and Hisham al-Sayed, both of whom are believed to still be alive.
The Kfar Batya students named their initiative, "Ten Days to Bring the Boys Back," or "Aseret Yemei Hashavat Habanim." The Hebrew name is a takeoff on the Hebrew for the "Ten Days of Repentance," or, "Aseret Yemei Teshuva," which begin on Rosh Hashanah (the Jewish New Year) and Yom Kippur (the Day of Atonement).
The initiative calls on high schools, yeshivas, and religious girls high schools to join, and participants will study - during the first ten days of the new year - a short section from the book, "How to Build a Life: Havruta in Mesilas Yesharim with Hadar Goldin." The sections were chosen by Rabbi Itamar Chaikin, the head of the Ruach Sadeh pre-military academy, who taught Goldin in school.
Nadav Walsh, a student at the Amit Kfar Batya school in Ra'anana and one of those behind the initiative, noted that next summer marks ten years since Goldin fell, and the State of Israel needs to bring him home before that date.
"We are educated to give to the State and serve it, and mutual responsibility requires that it do everything not to leave a soldier in the battlefield. This learning is intended to commemorate and remind us that we must not make peace with the situation," he said.
Rabbi Chaikin, who was Hadar's teacher, said, "The Ten Days of Repentance are the time to repent in the private sphere and in the national sphere. The people of Israel sent Hadar and Oron to battle, and we are all obligated to bring them home."
The 'Ten Days of Repentance' initiative Credit: Courtesy of the photographer