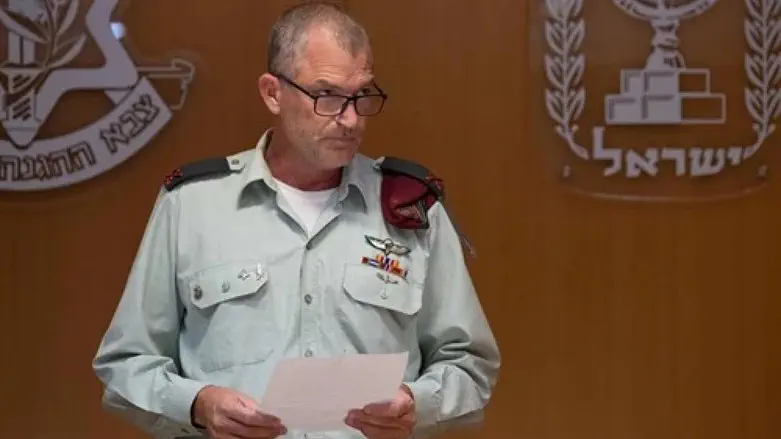 General Benny Ben Ari
IDF Spokesperson
Commander of the Reserve Forces Corps Brigadier-General Benny Ben Ari said this morning (Friday) that the number of IDF reservists who have refused to report for duty in protest against the government's planned judicial reforms is not as large as the media attention the refusals receive would suggest.
In an interview with the Makor Rishon newspaper, Ben Ari explained how a combination of personal conversations and responsible behavior reduced the problem dramatically and emphasized that this is not a situation that endangers the operational competence of the IDF.
"The phenomenon is really not widespread. I'm not saying it doesn't exist, we don't bury our heads in the sand; we do a lot and try to reach every soldier. We have a problem with competence in the Air Force, but not in the IDF in general. We are qualified for any task as we understand them. We are not in a situation where if war breaks out tomorrow morning we won't know how or be able to carry out our plans. A tremendous effort is being invested here by the commanders to succeed in bringing every soldier together," Ben Ari said.
According to him, "We know that there is a limited problem in the Air Force, but in the other units, there is no significant damage, and certainly not in their competence. We have taken many actions that help to strengthen the ranks internally."
"The motivation to serve is increasing. We are strengthening cohesion and morale and with those the commitment to serve. We are holding conversations with each and every soldier, including protest activists and those who express extreme positions. What I am experiencing is that the hatred and division that characterize the debate in the civilian world are absent here. An activist in the 'Kaplan Force' and a very right-wing person who demonstrated In Jerusalem, they sit together in a jeep on the same mission, and they have no problem talking and cooperating. There is a big gap between the statements and the reality," he said.
The commander of the reserve forces said that he has received data showing that service in the most important units has increased despite the protests and that the more people serve together, the more cohesive the soldiers of different backgrounds and political opinions become.
"But we also worry about what will happen in the future," Ben Ari concluded.