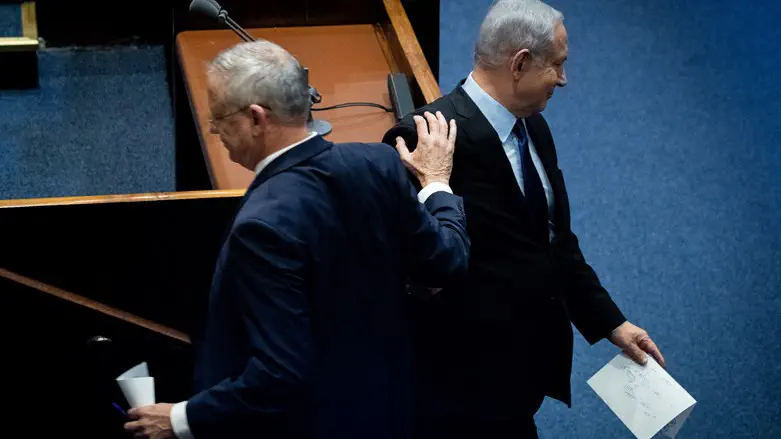 Benny Gantz of National Unity (L) and Prime Minister Benjamin Netanyahu of Likud (R)
Flash 90
A new poll has predicted that neither the right-religious bloc nor the center-left bloc will be able to form a coalition.
The poll, conducted by Direct Polls for Channel 14 News, showed that if elections were held today, the right-religious bloc would win 56 Knesset seats, while the center-left bloc would win 60 Knesset seats. The remaining four seats are held by the Arab Hadash-Ta'al list, which does not join any coalition.
According to the poll, if elections were held today, the Likud would be the largest party, with 30 seats; National Unity would be second-largest, with 28 seats.
Following the two large parties is Yesh Atid with 16 seats, third-largest in the Knesset. Shas, fourth-largest, follows Yesh Atid by a wide margin, winning ten seats.
Among the smaller parties, two of them - Yisrael Beytenu and United Torah Judaism - win seven seats each. Another two - Otzma Yehudit and Ra'am (United Arab List) win five seats each.
At the bottom of the list are three parties of four seats each: Religious Zonism, Hadash-Ta'al, and left-wing Meretz.
Neither Labor nor Balad is expected to pass the electoral threshold.