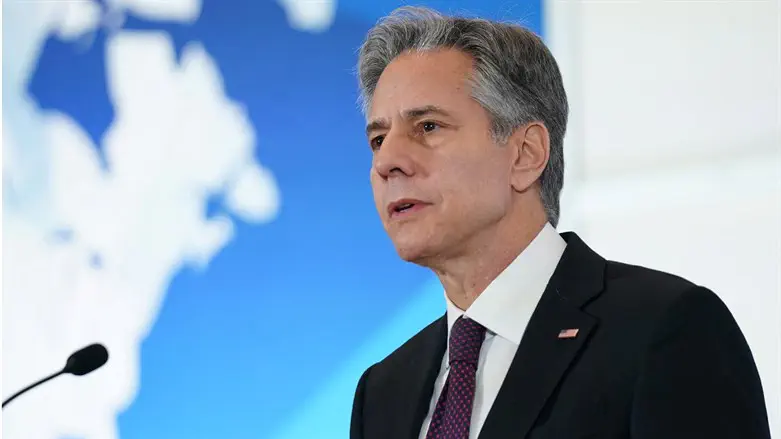 Antony Blinken
REUTERS/Sarah Silbiger
US Secretary of State Antony Blinken on Wednesday gave an interview to the Pod Save the World podcast with Tommy Vietor and Ben Rhodes, and commented on the efforts to achieve a normalization agreement between Israel and Saudi Arabia.
Blinken made clear that normalization "cannot be a substitute for Israel and the Palestinians resolving their differences and having a much better future for Palestinians. And in our judgment, of course, that must – needs to involve a two-state solution."
He also added that "it's also clear from what we hear from the Saudis that if this process is to move forward, the Palestinian piece is going to be very important, too."
"That's clearly something that's important to the Saudis in doing any kind of deal. It would be important to us, too. But I think every country involved, if this is to move forward, will clearly find significant tangible benefit in it – in the near term, but again this is even more about putting in place a foundation for a much different future, one that is more peaceful, that is more secure, that is more prosperous in moderating so many of these different problems and passions that have led to turmoil over the last decades, and through the process of integration that is going to deliver much more tangible benefits to people in all of these countries and throughout the region. That's the goal," said Blinken.
"Now, again, whether we can get there, the jury's out. Because the practical substance of this is challenging, it's hard, but we're working on it, and I think the labor is well worth the fruit that could be produced," he added.
The interview with Blinken follows a recent report which indicated that the United States and Saudi Arabia have agreed on the broad outlines of a deal for Saudi Arabia to recognize Israel in exchange for concessions to the Palestinian Arabs.
As part of the process, The Wall Street Journal reported that Saudi Arabia is offering to resume financial support to the Palestinian Authority which it had frozen in 2021.
Last Thursday, however, White House national security adviser Jake Sullivan told reporters that while US, Israeli and Saudi leaders have put many of the elements of a pathway to normalization on the table, there is still much work to do.