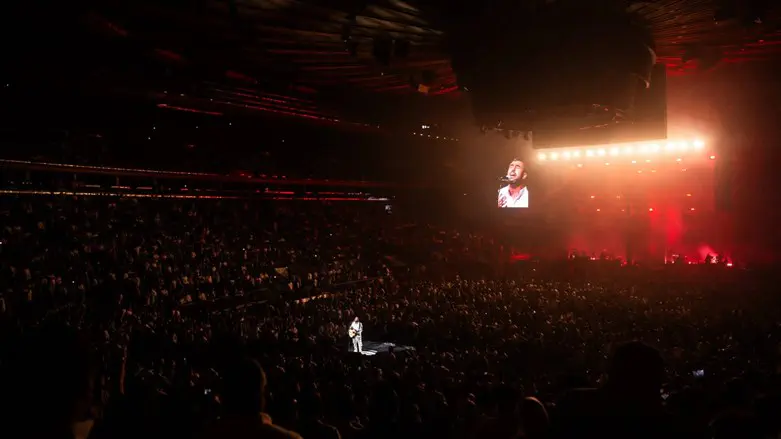 ישי ריבו
Ishay Ribo staff
In an extraordinary display of unity and solidarity, 15,000 Jews from diverse backgrounds across New York gathered at Madison Square Garden on Sunday, September 3rd, for a historic event. This momentous occasion was made possible through a remarkable collaboration between Bnei Akiva of the US & Canada, part of the world's largest and foremost Jewish youth movement, the acclaimed Israeli artist Ishay Ribo, and the exceptional professionalism of Or Davidson Artists Management's dedicated team.
In 2019, Rabbi Shaul Feldman, Executive Director of Bnei Akiva of the United States and Canada, conceived an innovative event designed to connect New York's multifaceted Jewish community. Recognizing the profound unifying power of music, Rabbi Feldman recognized that international superstar Israeli singer and songwriter Ishay Ribo, known for his mesmerizing concerts, was the ideal catalyst for this unity.
Collaborating with Davidson Artists Management's professional team, renowned for their astute understanding of the music industry, ensured that every aspect of this event met the highest standards of excellence and professionalism.
Bnei Akiva, the premier religious Zionist youth movement, is committed to cultivating generations of Jews devoted to building a society deeply rooted in Torah and the Jewish people in the state of Israel. Guided by the enduring principles of Torah v'Avodah, their mission encourages aliyah, fosters love for the Jewish people, and nurtures an unbreakable bond with Israel.
Established in Israel in 1929, Bnei Akiva has always worked to meet the needs of the Jewish people at each moment in time. In the US & Canada, Bnei Akiva operates numerous leadership programs, Shabbat experiences, sleepaway and day camps, Israel tours, two post-high-school programs in Israel, a Hesder Yeshiva track, and educational initiatives spanning over forty US & Canadian communities. Their unwavering dedication to religious Zionism stands as a cornerstone for the future of the Jewish people and the state of Israel.
On September 3rd, Bnei Akiva's vision materialized before an audience representing the rich tapestry of Jewish life in New York. As Ishay Ribo took the stage, the arena reverberated with thunderous applause, bridging hasidic, Modern Orthodox, Sephardi, and secular Jews through the transformative power of Ribo's soulful music.
In an emotional reflection on the concert's significance, Ishay Ribo declared, "As Americans and Israelis, we may be different, but I wanted the concert to remind us that we're all connected to the same source." The concert reached its zenith with the performance of "Lashuv HaBaitah" (Return Home), leaving the crowd in euphoric applause.
Rabbi Feldman observed, "This Sunday night marked a new era for Bnei Akiva's mission and for the Jewish people. It provided a tremendously positive emotional experience where everyone walked away feeling proud to belong to the Jewish people."
Rabbi Feldman further reflected, "We believe we're living in a generation of redemption. This experience of unity is an essential step to getting us all the way there, especially during the month of Elul."
Bnei Akiva launched the concert with an invitation to the entire audience to "come home" to Israel. For those considering aliyah, they offered a compelling package, including a year of free groceries, an exclusive concert with Ishay Ribo, and invitations to Shabbat meals. It was a powerful way to begin and end the concert, perfectly illustrating the aligned mission of Bnei Akiva and Ishay Ribo with the ultimate plea to return home –"Lashuv HaBaitah."
Learn more about this inspiring initiative at bneiakiva.org/welcomehome