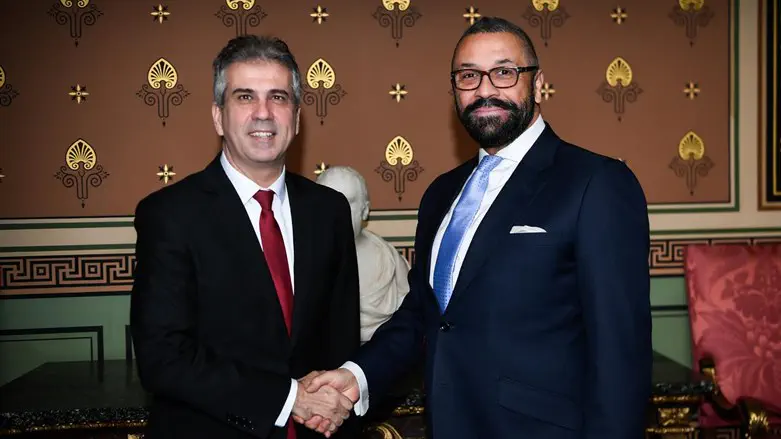 Eli Cohen and James Cleverly
Stewart Mitchell
British Foreign Secretary James Cleverly will travel to Israel and the Palestinian Authority (PA) this week, where he will press for renewed dialogue on a two-state solution and commit to tackling threats to regional security, including from Iran, Reuters reported on Sunday.
On the visit that begins on Monday, Cleverly will hold talks with Prime Minister Benjamin Netanyahu and PA cabinet leader Mohammed Shtayyeh.
He is scheduled to speak at an international security conference on Tuesday, where he will discuss the security challenges facing Israel and the PA, as well as the importance of a two-state solution, according to the report.
Clevely will accuse Iran of "enabling terrorism" through its support of Hamas and Islamic Jihad terrorist organizations, according to a statement.
"The UK and Israel work closely together to keep our people safe," Cleverly said ahead of his trip. He pledged "to renew our close security partnership, in the face of unacceptable threats from the Iranian regime".
He will hold talks with Foreign Minister Eli Cohen and attend a demonstration of Israel's "Iron Dome" missile defense system.
Foreign Minister Cohen met Cleverly during his visit to London in March. During the visit, Cohen thanked his counterpart for the warm relationship between the two countries and expressed appreciation for the cooperation on the part of Great Britain in the international arenas.
The two discussed the Iranian issue at length and agreed that the continuation of Iran's uranium enrichment to the prohibited and dangerous levels would lead to serious consequences on the part of the international community.
Netanyahu also visited London in March, where he met Prime Minister Rishi Sunak and Home Secretary Suella Braverman.