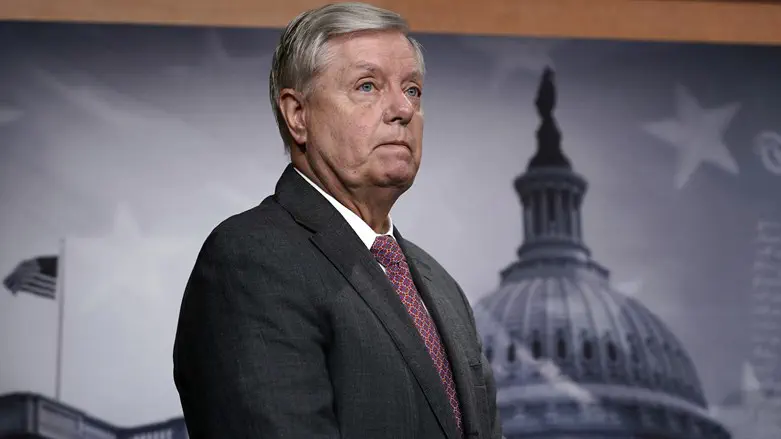 Lindsey Graham
Reuters/Yuri Gripas/ABACAPRESS.COM
Sen. Lindsey Graham (R-SC) told Barak Ravid of Axios on Wednesday that he has urged former President Trump to support the mega-deal President Joe Biden is negotiating with Saudi Arabia, which could pave the way for a historic peace agreement between the kingdom and Israel.
The comprehensive deal could include a US-Saudi defense treaty that would require support from two-thirds of the Senate, where many Democrats hold critical views of both Saudi Crown Prince Mohammed bin Salman (MBS) and Prime Minister Benjamin Netanyahu.
That could force Biden to rely significantly on Republicans, many of whom oppose his foreign policy but support Israel and the previous Arab normalization agreements known as the Abraham Accords.
Vocal opposition from Trump, who brokered the Abraham Accords and forged a close relationship with Saudi Arabia as president, could deal a serious blow to Biden's chances of attracting Republican support.
Graham told Axios in an interview that he had briefed Trump about his talks with MBS after traveling to Saudi Arabia in April.
"I told President Trump, listen, this is the natural extension of the Abraham Accords and if we can do it, let's do it. It doesn't matter how it gets done, on whose watch it gets done. It'd be a good thing for the stability of the Middle East and our own national security and President Trump deserves his fair share of credit," Graham said.
The South Carolina Senator added that he told Trump it's "the highest sign of flattery" when a president replicates his predecessor's policy, and said Trump appreciated the message.
Trump's spokesperson declined to comment.
Trump's son-in-law Jared Kushner, the chief architect of the Abraham Accords, also urged the former President to support Biden's potential deal with Saudi Arabia, two sources with knowledge of the issue told Axios.
Kushner, who is very close with MBS, told Trump that such an agreement would be a vindication of his policy in the Middle East, the sources said.
"Jared Kushner has been very helpful. He had some ideas for the Palestinians (in the context of an Israeli-Saudi deal). I know that he's offered to help, I think the White House sees him as helpful," Graham told Axios.
A recent report indicated that the United States and Saudi Arabia have agreed on the broad outlines of a deal for Saudi Arabia to recognize Israel in exchange for concessions to the Palestinian Arabs.
Saudi officials have repeatedly said that a Palestinian state with eastern Jerusalem as its capital is a prerequisite for Saudi Arabia normalizing ties with Israel.
On Tuesday, US National Security Adviser Jake Sullivan said there was no imminent breakthrough for a normalization deal between Israel and Saudi Arabia.