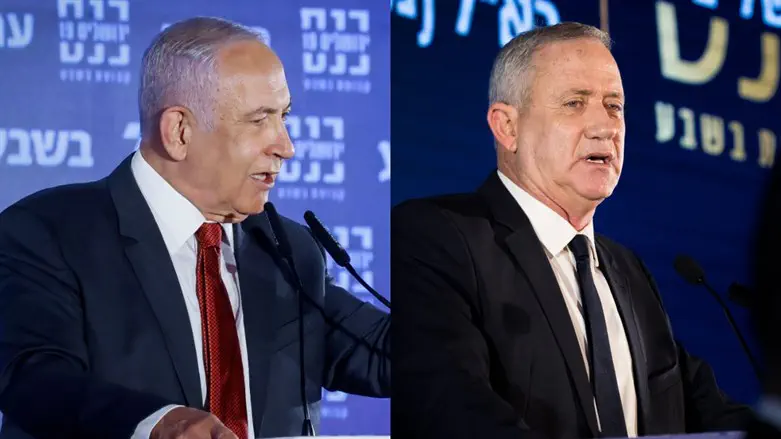 Benjamin Netanyahu (L) and Benny Gantz (R)
Yonatan Sindel/Flash90, Olivier Fitoussi/Flash90
A new poll published Monday by Channel 13 News showed MK Benny Gantz's National Unity party losing power, though it remains the Knesset's largest party.
According to the poll, if elections were held today, National Unity would win 26 Knesset seats - a drop of four seats from Channel 13's previous poll.
At the same time, the Likud party, led by Prime Minister Benjamin Netanyahu, is projected to win 25 Knesset seats. Yesh Atid, third-largest in the Knesset, is expected to win 20 seats.
Among the smaller parties, Shas is projected to win 10 seats, while United Torah Judaism is projected to win seven seats.
Ra'am (United Arab List), Yisrael Beytenu, and Religious Zionism are expected to win six seats each, while Otzma Yehudit and the Arab Hadash-Ta'al party are each projected to win five seats. Meretz is expected to win four seats each, making it the smallest party in the Knesset.
Both Labor and Balad polled under the electoral threshold.
Divided into blocs, the current coalition is expected to win 53 Knesset seats, while the center-left parties would win 62 seats. Hadash-Ta'al, which traditionally does not join any coalition, holds the remaining five seats.
Meanwhile, 67% of respondents believe that Netanyahu should punish ministers and MKs who criticize the IDF.
Among Likud voters, 67% demand that Netanyahu fire Attorney General Gali Baharav-Miara, while just 11% believe she should remain in her position.
A full 66% of the Israeli public opposes granting haredim a blanket exemption from army service, while 20% support the move.