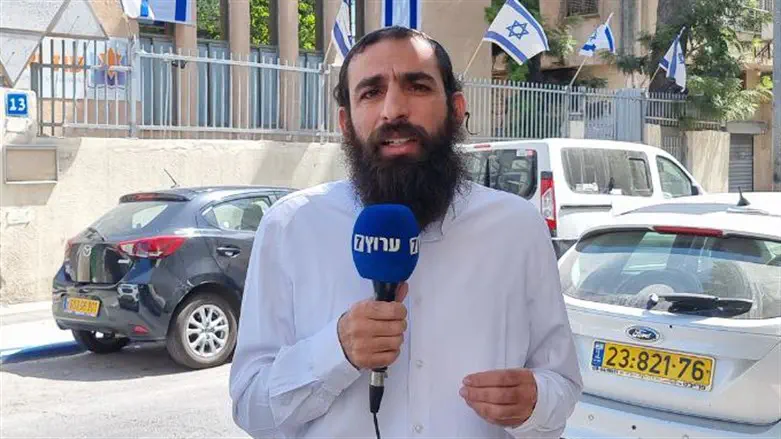 Rabbi Itzik Paneeri
Israel National News
The dean of the Oz V'emuna yeshiva in south Tel Aviv, Rabbi Itzik Paneeri, recounted to Israel National News-Arutz Sheva the events of this past Saturday and the violent riots by Eritrean infiltrators from the yeshiva's point of view.
"We were here on Shabbat. We heard the events from groups that passed through the neighborhood to get to the places where the violence was, but the helicopters that flew over, the police cars, and the mounted officers that passed through the neighborhood made us feel the events. As far as the effect on the yeshiva, the incident didn't touch us and wasn't connected to us. We only heard it from afar," Rabbi Paneeri says.
Despite this, he points out that such a significant incident is rare, but "in general, violent incidents are commonplace in the neighborhood. There are a lot of unpleasant incidents here, just not at such a large scope."
As a result of the incidents, the security around the students has been heightened by the various security authorities.
"When an unpleasant incident like this happens, and you have elderly and families and synagogues, as part of us being residents of the neighborhood, we go out to make sure everyone's okay. We are in contact with a few elderly residents and work to ensure a feeling of safety for the Jews who live here. We have a good partnership with the police regarding security," Rabbi Paneeri says and wishes a speedy recovery to the police officers who were injured in the riots.
Rabbi Paneeri refrains from talking about the headlines that accuse the state of abandoning the residents. According to him, these issues should be left to the politicians. It is clear to the residents and students that "the neighborhood needs to be a Jewish neighborhood, and the lifestyle here has to allow Jews to live here. There are a lot of synagogues here, there are a lot of elderly and families who live here, and they all need to live and survive here. There is tremendous importance in a Jewish presence here to allow normal and peaceful Jewish life here."
At this point, Rabbi Paneeri talks about the expansion of his yeshiva at the start of the new session. "The year started with 70 students, and the married students and their families are already an integral part of the neighborhood. Torah life flows through the neighborhood, prayers, selichot, and shofar during the month of Elul, and the holidays serve as a lever to strengthen the Jewish governance and to return normalcy to the neighborhood," the rabbi concludes.