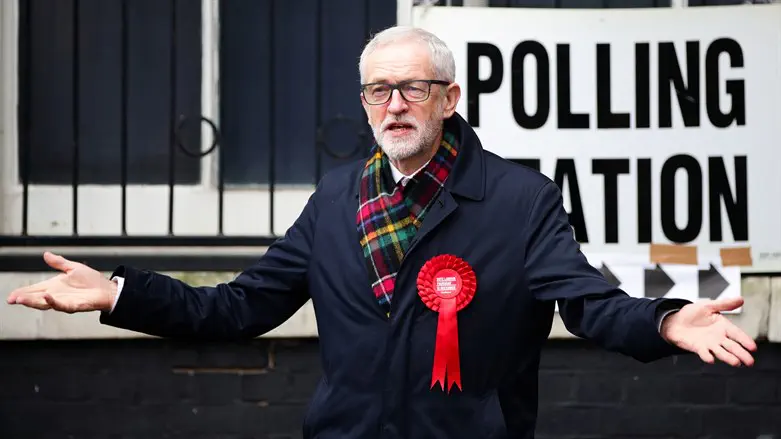 Jeremy Corbyn
Reuters
Former British Labour leader Jeremy Corbyn praised a mosque in London as a "place of peace, hope and solidarity", only a few days after the Jewish Chronicle exposed that the tax-funded mosque as having hosted a number of antisemitic Imams and officials, JPost reports.
In a post on Twitter, which is now called X, Corbyn wrote, "Finsbury Park Mosque offers a place of peace, hope and solidarity to so many people in our community. We will not be divided by those in our media who seek to sow hatred and fear. It is love for our neighbors, whatever their faith, that unites us all."
That tweet came just after the Jewish Chronicle revealed that the mosque, which received almost £300,000 from Islington Council between 2017 and 2022, hosted an Egyptian imam who pledged to "liberate" Al-Aqsa Mosque in Jerusalem from the "filth of the Jews."
Additionally, the mosque's general secretary, Mohammed Kozbar, praised Hamas founder Sheikh Ahmed Yassin as a "the master of the martyrs of resistance, the mujahid [holy warrior] sheikh, the teacher" during a trip to Gaza in 2015.
Corbyn has a lengthy history of controversial remarks. When he served as Labour leader, he stirred up controversy by calling Hamas and Hezbollah his "friends". He initially refused to apologize for those comments but later walked them back.
British Jews also voiced deep concern over his disturbing links to a wide range of extremists, spanning far-right Holocaust deniers, an antisemitic Christian minister and Islamist terrorist groups.
Corbyn was suspended from Labour following the publication of a report compiled by the Equality and Human Rights Commission which found numerous cases where the party leadership under Corbyn underplayed, belittled or ignored complaints by Jewish members, and sometimes actively interfered to support political allies.
He was reinstated to Labour after appearing to apologize for belittling the report, but his successor as Labour leader, Keir Starmer, said he would deny Corbyn the party whip even after he was reinstated as a party member.
In November of 2022, Corbyn was permanently banned from running as a candidate for the Labour party.