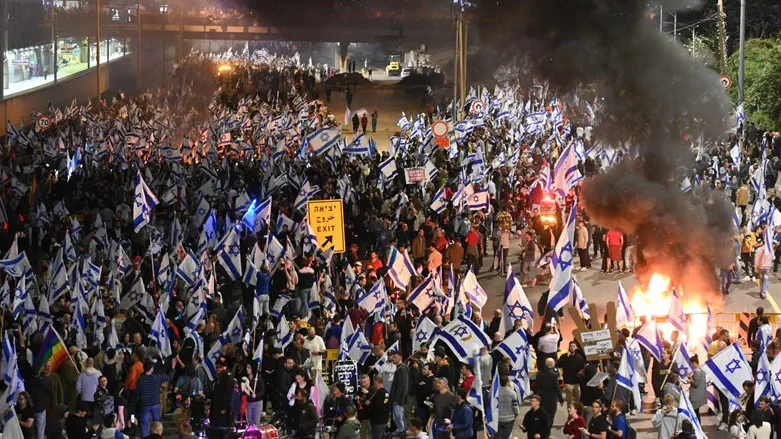 Protest (illustrative)
Yossi Zeliger/TPS
A female protester who attended the Thursday night protest in Bnei Brak raised a storm after she ripped off her shirt in front of the crowd.
The "Yehudit" organization has announced that it filed a complaint with the police for "humiliation and sexual harassment." Moria Litwak, Yehudit's CEO, said, "This is sexual harassment in every way. This woman deserves every condemnation. She exposed her body intentionally in front of young haredi men, with the intention to hurt their feelings and humiliate them."
"In essence, this is accompanied by a message of objectification of the female body and turning it into a vessel - a message which is in contradiction to the goals which they declared when they went out to protest. Once more, radical leftist women are proving their disconnection from any measure of ethics. I expect Israel Police to investigate the suspect, arrest her, and bring her to justice."
The extraordinary incident aroused, as mentioned, a multitude of responses on social media, and many of the responses recommended that haredim who were present file sexual harassment charges.
One reader, Noga, responded, "This is sexual harassment. She is not justified. It doesn't matter who it happened in front of and for what reason."
Micah Shulem, a haredi reader, said, "A horrific embarrassment and a pure shame has been recorded for the leaders of this 'protest,' which again and again is revealed as the stronghold of anarchists, lawbreakers, people-haters, and the creators of fights and strife; they have no other agenda. It's not for nothing that the base of the protest is disintegrating."
Omer Dahan, a female right-wing activist, said, "And she's supposed to be more respectable? More free? Liberal? She's a maid of progressive values which sanctify the body and trample the soul, mercy."
One respondent said, "You have nothing in you. You're empty people - simple, violent, boorish, barbarian. You have no ethics, you have no justice, you have no meaning to you. You've got nothing in you."