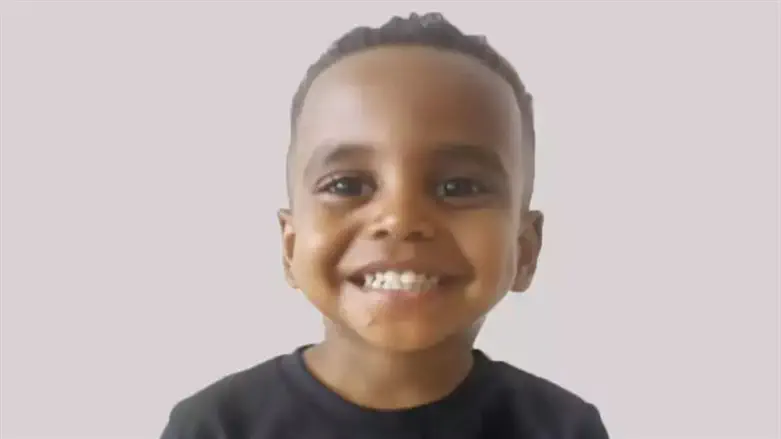 Refael Adana
Courtesy of the family
Footage from the scene of the hit-and-run in which four-year-old Refael Adana was killed in May shows that the mother of the vehicle's owner was alone in the vehicle at the time of the accident.
The footage, published on Channel 12 News, shows Carol Fassler driving the vehicle, without her daughter Dr. Heidi Fassler.
On Sunday, the Central District Prosecutor's Office will meet the Adana family and show them the footage.
According to a report by traffic investigators from the police department, the accident was unavoidable: "The child jumped into the street, and there was no way to avoid hitting him."
It was also reported that after police located the vehicle which hit Adana, thanks to parts of the vehicle which were left at the scene, investigators gathered 11 security cameras, from which they succeeded in putting together a picture of the scene, showing Carol Fassler, the driver who hit Adana, in the vehicle alone. The police and Prosecutor's Office have reiterated their claim that there is no footage from the accident itself - only from the moments before and after it.
Police also carried out a series of tests to ensure that Dr. Heidi Fassler, Carol Fassler's daughter and the owner of the vehicle, was not involved in the accident. Among other things, Dr. Heidi Fassler's cell phone location was tracked, and it confirmed that she was not present at the scene.
Simcha Adana, Refael's mother, responded to the publication of the photo, saying, "This is exactly the behavior which pains me as a bereaved mother, and it is a direct continuation of all of the behavior towards us since the day of the tragedy. I and the family are receiving contradictory messages, and the behavior towards us is inappropriate. Your eyes see the behavior. The coordination is not coordination, closure is not closure, and a word is worth the garlic peel in front of us. I can't say whether this is because of our ethnicity and my skin color, or whether we've just landed on someone whose vested interests are more important than us."
"I have lost one child, the second child saw the incident, and we are all dealing with this difficult, painful, and horrific event for over three months already. Instead of acting towards us with understanding and compassion, we have been abandoned and we find that compassion is given towards the abandoner, and the system is working in an inferior fashion towards us. Stop this dance of the devil. We deserve to receive the details in the accepted fashion, and we also deserve the quiet to mourn."