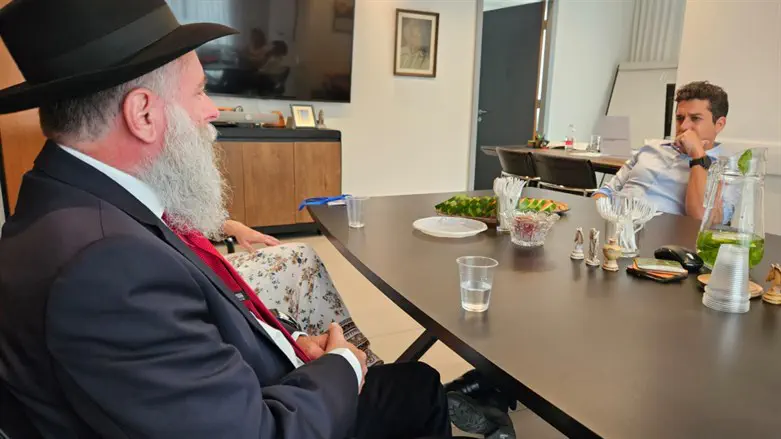 Minister Chikli and Rabbi Jonathan Markovitch
Spokesperson for the Jewish community and JCC Chabad in Kyiv
As Russia's war against Ukraine continues and the local Jewish communities remain in turmoil, Israeli Diaspora Affairs Minister Amichai Chikli met yesterday with Rabbi Jonathan Markovitch, Chabad emissary and chief rabbi of Kyiv.
During the meeting, which was also attended by Elka Markovitch, Rabbi Markovitch's wife, the rabbi thanked Minister Chikli for the Diaspora Ministry's participation in the creation of summer camps and activities for Jewish communities in Ukraine and for the ministry's support of the Jewish communities around the world and particular in the Jewish communities of Ukraine.
"During the war, many new members joined the community," said Rabbi Markowitz. "Many Jews who had nothing to do with Judaism or a Jewish identity asked to join and be registered as community members in order to receive community, mental, and humanitarian support." Alongside the community activity in Kyiv, Rabbi Markowitz presented the activity vis a vis the Jews in Ukrainian prisons, which is carried out through his position as the rabbi of the prisons of Ukraine. Rabbi Markovitch also mentioned the activities of the Jewish Relief Network Ukraine (JRNU) organization, led by CEO Rabbi Shloimi Peles, which provides significant aid to the Jewish communities of Jewish.
Minister Chikli spoke about his ministry's activities fighting antisemitism around the world, singling out Europe and Eastern Europe, and the fear of a possible rise of antisemitism in Ukraine after the war. Rabbi Markowitz pointed out that all the humanitarian activities of the Chabad JCC community in Kyiv, which includes the distribution of food, medicines for the needy, and other aid activities, are open to community members and all residents of Kyiv, not just the Jewish community.
The struggle of the Jewish residents and communities is a high priority for the Diaspora Ministry. Minister Chikli and Rabbi Markowitz discussed the psychological aid project planned by the Diaspora Ministry for the communities in Ukraine. Rabbi Markowitz said that the community under his leadership will arrange a place for this in the synagogues and schools in Kyiv, to enable those who are interested to seek the help of professionals and to ease the mental distress caused by the war.
The minister said that his office will continue to stand for the rights of the Jewish communities in Ukraine, and will support humanitarian activities that will strengthen the status of the Jewish communities among the local residents. After the meeting with Minister Chikli, Rabbi Markovitch also met with the Director General of the Diaspora Ministry, Avi Cohen Scali, to continue the cooperation between the Diaspora Ministry and the Jewish community in Kyiv.