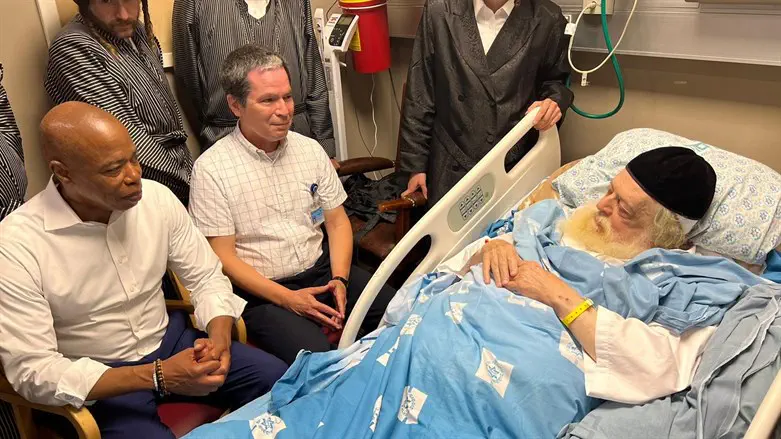 The Rabbi with Eric Adams
Fabian Levy, Dep. Mayor for Communications
New York City Mayor Eric Adams, who is currently on a three-day tour of Israel, arrived yesterday at the Hadassah Ein Kerem Hospital to visit the ailing Rabbi of the Toldos Avrohom Yitzchok Hasidic sect of Meah Shearim.
The two discussed the state of the Jewish community in the United States and education in haredi institutions in New York in a rare meeting between the Rebbe and a political leader at the hospital.
Adams wrote on Twitter after the visit: "Rabbi Shmuel Yaakov Kohn is the embodiment of strength and perseverance. His faith and wisdom are unstoppable. Get well soon, my friend."
The visit was initiated by haredi businessman Ephraim Fink, who belongs to the Hasidic group and is an associate of Adams'.
The Rabbi was taken to the hospital after doctors discovered an infection in the kidneys in recent weeks and it appears that these are not working properly - which makes it difficult for him to continue his work due to extreme weakness.