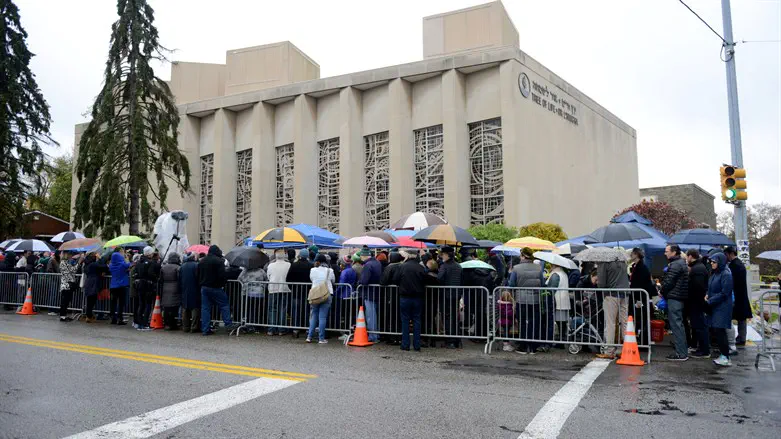 Tree of Life Synagogue in Pittsburgh
Reuters
A self-proclaimed white supremacist was arrested on Thursday after federal prosecutors said he threatened the jury and witnesses in the Pittsburgh synagogue shooting trial, CBS News reported.
The Department of Justice said 45-year-old Hardy Lloyd of Follansbee, West Virginia, a self-proclaimed "reverend" of a white supremacy movement, made threatening social media posts, website comments and emails during the trial.
He also put stickers in predominantly Jewish areas of Pittsburgh, directing people to the website with his threats and antisemitic messages, prosecutors said, according to the report.
In the 34-page affidavit, investigators said Google reached out to the FBI in March about YouTube comments allegedly made by Lloyd where he advocates for killing Jewish people and pushes people to his website.
In May, investigators said Lloyd started posting about the synagogue shooting trial and continued to post about it, and white supremacist stickers with his website address were discovered in Pittsburgh, according to CBS News.
Lloyd has been charged with obstruction of the due administration of justice, transmitting threats in interstate and foreign commerce and witness tampering, the Department of Justice said.
He faces up to 10 years in prison for the obstruction charge, up to five years for the threats charge and up to 20 in prison for the tampering charge.
Lloyd's arrest comes a week after Robert Bowers, the gunman who killed 11 congregants at the Tree of Life Synagogue in October of 2018, was formally sentenced to death.
Bowers, 50, was convicted in June on 63 counts in connection with the October 27, 2018 massacre at the Tree of Life Synagogue.
Later, a federal jury announced that he is eligible to receive the death penalty. He was found to have had a history of antisemitic comments on social media.
Trying to persuade jurors to spare his life, the defense said Bowers has a family history of mental illness and has introduced evidence that his father, Randall Bowers, was diagnosed with schizophrenia.
Lawyers for Bowers had argued previously that the gunman had psychotic, delusional and paranoid symptoms that made him unable to understand the world or make appropriate decisions.