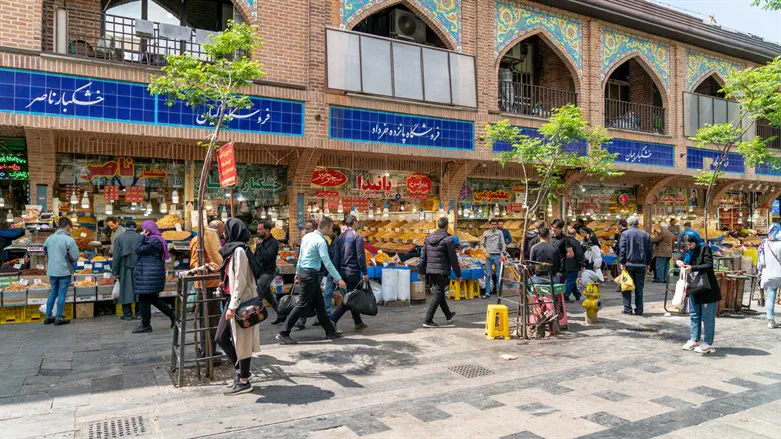 Tehran
Reuters
Five Americans who had been imprisoned in Iran have been moved to house arrest, the first step in a deal between the United States and Iran that would include making $6 billion in Iranian funds more accessible to Tehran in exchange for their return to the US, CNN reported on Thursday.
Four of the Americans – Siamak Namazi, Emad Shargi, Morad Tahbaz, and a fourth American who has not been identified publicly – were moved out of Tehran's notorious Evin Prison on Thursday, the White House confirmed.
The fifth American, who also has not been publicly identified, was already under house arrest, a source familiar with the negotiations said.
The source described Thursday's development as "an encouraging step," noting that there's "a roadmap that has basically been agreed." However, they said that "there's a number of things here that that still need to be worked out" in the prospective deal to bring the Americans home to the United States.
Among the roadmap are plans to make $6 billion in Iranian funds that have been in a restricted account in South Korea more readily available for "non-sanctionable trade" of goods like food and medicine by moving them to "a restricted account elsewhere", according to CNN.
The source said that this would not be giving new funds to Iran, noting that those funds are currently in South Korean accounts and able to be used for humanitarian purposes and non-sanctionable trade. There have been challenges in converting the Korean currency.
US Secretary of State Antony Blinken clarified later on Thursday that "in any event, in any respect, Iran will not be receiving any sanctions relief" as part of the deal.
"The US will continue to enforce all of its Iran sanctions," he stated.
There is also expected to be a prisoner swap component to the deal, though the source said that "no prisoners held in the US will be released in exchange for these Americans moving to house arrest."
The Permanent Mission of the Islamic Republic of Iran to the United Nations said in a statement that "as part of a humanitarian cooperation agreement mediated by a third-party government, Iran and the US have agreed to reciprocally release and pardon five prisoners."
"The transfer of these prisoners to out of prison marks a significant initial step in the implementation of this agreement," the statement said.
National Security Council spokesperson Adrienne Watson said in a statement Thursday that the US "received confirmation that Iran has released from prison five Americans who were unjustly detained and has placed them on house arrest."
"We will continue to monitor their condition as closely as possible. Of course, we will not rest until they are all back home in the United States," she added.
"Until that time, negotiations for their eventual release remain ongoing and are delicate. We will, therefore, have little in the way of details to provide about the state of their house arrest or about our efforts to secure their freedom," Watson said.
The negotiations over the detained Americans are separate from discussions over Iran's nuclear program, a source said on Thursday, but noted that if the Americans are ultimately freed, "it could perhaps help facilitate discussions in other areas."
Iran signed the nuclear deal, known as the Joint Comprehensive Plan of Action (JCPOA), with world powers in 2015. In 2018, then-US President Donald Trump withdrew from the agreement and reimposed sanctions on Tehran.
Iran responded to Trump's withdrawal from the 2015 nuclear deal by scaling back its compliance with the agreement. The Biden administration, however, sought to return to the deal and held indirect talks with Iran on a return to compliance.
While the talks were stalled in September after the sides failed to reach an agreement on IAEA probes of Iran's nuclear activities, recent reports indicated that the US and Iran held indirect talks on a new agreement.
Later, Blinken denied that an agreement had been reached between the Biden administration and the Iranian government on Iran's nuclear program.
"There is no agreement in the offing, even as we continue to be willing to explore diplomatic paths," Blinken said.