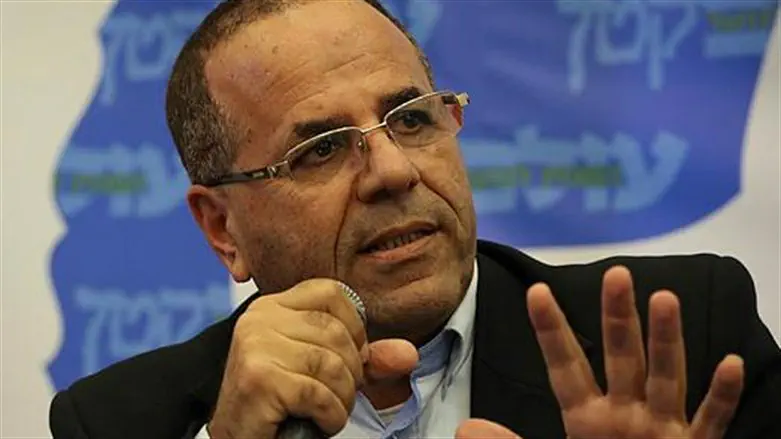 Ayoub Kara
Hadas Parush / Flash 90
It was recently reported that hundreds of European rabbis will be attending the Conference of European Rabbis this fall, which is scheduled to take place in Baku between November 12 and November 15 at the invitation of Azerbaijan's President Ilham Aliyev. According to the reports in the media, about 500 rabbis are expected to attend the event and they will meet with local representatives of the Mountain Jewish, Georgian and Ashkenazi communities, in addition to visiting Azerbaijani synagogues.
Azerbaijan has seven synagogues: three in Baku, two in Quba and two in Oghuz, with a Jewish communal center also existing in Ganja.
The fact that Azerbaijan is hosting this event is another sign of the flourishing friendship between Israel, world Jewry and Azerbaijan. Today, Baku supplies Israel with almost half of its energy needs and 70 percent of Azerbaijan's arms are said to be produced by Israel. However, the friendship between Azerbaijan and Israel is not just strategic. It is not just about an exchange of arms for energy security. It is about a strong people-to-people bond between both peoples.
The Azerbaijanis are one of the few Muslim nations that waves Israeli flags. It is one of the few Muslim countries where there is no anti-Semitism and Jews can proudly don kippahs and Star of David necklaces, without fear. The Azerbaijani nation prides itself on having a rich multi-culturalism policy, which gives equal respect to all faiths and religions living in Azerbaijan.
When I was in Guba, I witnessed how the Azerbaijanis restored synagogues that the Soviets had abused and transformed one of them into the Mountain Jewish Museum, the only of its kind in the world, documenting the rich history of the Mountain Jewish people in the Caucasus region.
Azerbaijan's respect for the Jewish people led to the creation of a strong friendship between Israel and Azerbaijan. "Today, we are at the peak of our bilateral relationship, with a strong will to deepen and expand this friendship and cooperation," Elchin AMirbayov, representative of the President of Azerbaijan for special assignments," told JNS in an interview. "It is one of the rare cases in which we don't see any clouds. What you see is the tip of the iceberg. It's multi-fold, vibrant and constantly expanding."
In recent days, Rabbi Zamir Isayev reported, "The only kosher restaurant in Azerbaijan "Rimon" was officially launched! Address: Uzeyir Hajibeyli 74." This comes after the number of flights by Azerbaijan Airlines between Baku and Tel Aviv was raised from five to seven. As Israelis go out on holiday, many Israelis are expected to go to Baku this summer, and efforts have been made to make it easier for Israelis to travel to Azerbaijan.
Historically, Israel was one of the first countries to recognize Azerbaijan's independence and the two countries have enjoyed diplomatic relations since 1993. Israel was one of the countries who supported Azerbaijan during the Second Karabakh War, and the Azerbaijanis appreciate this.
This led to Azerbaijan opening up an embassy in Tel Aviv earlier this year, after opening up both a Tourism and Trade Office in the country previously in the wake of the Second Karabakh War. For the Azerbaijanis, this was a brave stance, given that they border Iran and Iran constantly threatens them over their friendship with Israel. However, the Azerbaijanis have chosen to remain staunch friends and allies of Israel in defiance of Tehran.
Aside from that, "Azerbaijan is a place with a special memory for the Jewish people, and is home to one of the most unique Jewish communities in the world," said Rabbi Pinchas Goldschmidt, president of the Conference of European Rabbis who met with President of Azerbaijan Ilham Aliyev earlier this year. He was referencing the Mountain Jewish community, which has been living in Azerbaijan since the Babylonian exile.
And the 500 European rabbis who will be attending the conference in Baku will also visit Quba, the ancestral home of the Mountain Jews, which is one of the most beautiful places that I have ever seen.
Let this conference be the beginning of even more fruitful cooperation.
Ayoob Kara served as Israel's communication minister under Netanyahu.