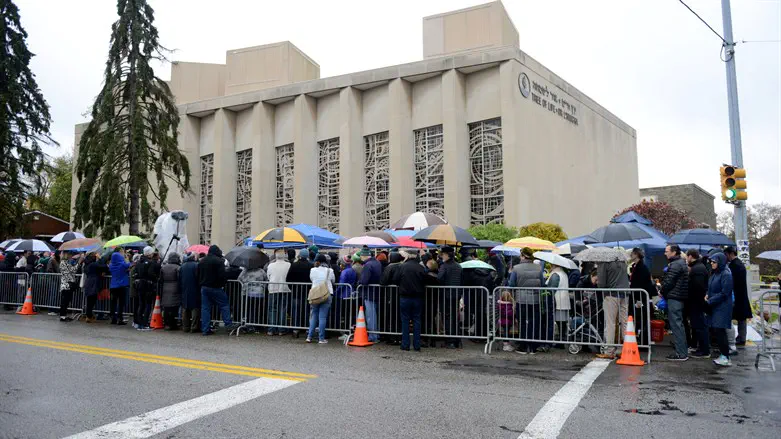 Tree of Life Synagogue in Pittsburgh
Reuters
Robert Bowers, the gunman who killed 11 congregants at the Tree of Life Synagogue in Pittsburgh, was formally sentenced to death Thursday, one day after a jury determined that capital punishment was appropriate, The Associated Press reports.
US District Judge Robert Colville ordered death by lethal injection for Bowers.
"I have nothing specific that I care to say to Mr. Bowers," Colville said from the bench. "I am however convinced there is nothing I could say to him that might be meaningful."
Bowers, 50, was convicted in June on 63 counts in connection with the October 27, 2018 massacre at the Tree of Life Synagogue.
Later, a federal jury announced that he is eligible to receive the death penalty. He was found to have had a history of antisemitic comments on social media.
Jurors were unanimous on Wednesday in finding that Bowers' attack was motivated by his hatred of Jews, and that he chose Tree of Life for its location in one of the largest and most historic Jewish communities in the nation so he could "maximize the devastation, amplify the harm of his crimes, and instill fear within the local, national, and international Jewish communities." They also found that Bowers lacked remorse.
Bowers, who was armed with an AR-15 rifle and other weapons, also shot and wounded seven, including five responding police officers.
Trying to persuade jurors to spare his life, the defense said Bowers has a family history of mental illness and has introduced evidence that his father, Randall Bowers, was diagnosed with schizophrenia.
Lawyers for Bowers had argued previously that the gunman had psychotic, delusional and paranoid symptoms that made him unable to understand the world or make appropriate decisions.