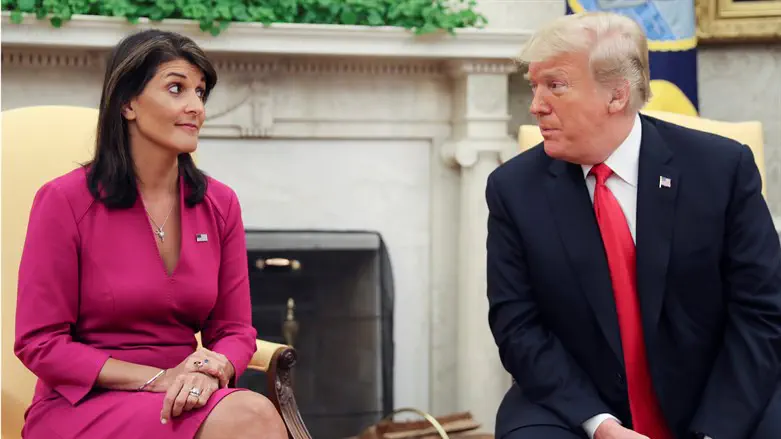 Donald Trump with Nikki Haley
Reuters
Republican presidential candidate Nikki Haley weighed in on the new allegations brought against former President Donald Trump in the classified documents probe, saying that no one should erase anything unless they had "something to hide."
"I mean, none of that sounds good," Haley told CBS's "Face the Nation", adding, "The same way it didn't sound good when Hillary [Clinton] erased her emails. It doesn't matter if you're Republican or Democrat. It doesn't matter if you're Hillary or if you're Trump. You shouldn't be erasing anything unless you have something to hide."
Haley reiterated that she would "clean up" the Justice Department if elected to the White House.
"But everybody needs to be treated the same way," she added. "And that's what the American people are frustrated about. It's not that they don't want people held accountable. They just want everyone to be treated fairly and right now they don't trust the Department of Justice."
"If I become president, the first thing we're going to do is we're going to make sure we clean up any sort — we'll clean it up from the top and all of senior management," Haley said. "They have weaponized and put politics in the Department of Justice over years."
Trump, who already faced 37 criminal charges in the case to which he pleaded not guilty, was charged last week with an additional count of willful retention of national defense information and two additional obstruction counts.
Trump is accused of trying to delete surveillance footage from his private residence at Mar-a-Lago in. The Justice Department said Trump acted with Carlos de Oliveira, the property manager of the club, and Trump's other co-defendant Walt Nauta in trying to delete the footage.
The former President, who is also seeking the Republican presidential nomination, said on Friday he would not end his 2024 presidential campaign if he is convicted and sentenced on the various charges against him.
Speaking to conservative radio host John Fredericks, Trump denied wrongdoing in his handling of security tapes sought by federal investigators, saying he believed he was not required to hand over security tapes from his Mar-a-Lago resort but did so anyway.
"These were security tapes. We handed them over to them. ... I'm not even sure what they're saying," he said.
Asked if being sentenced would stop his presidential campaign, Trump stated, "Not at all. There's nothing in the Constitution to say that it could."
"And even the radical left crazies are saying not at all, that wouldn't stop (me) — and it wouldn't stop me either. These people are sick. What they are doing is absolutely horrible," he added.