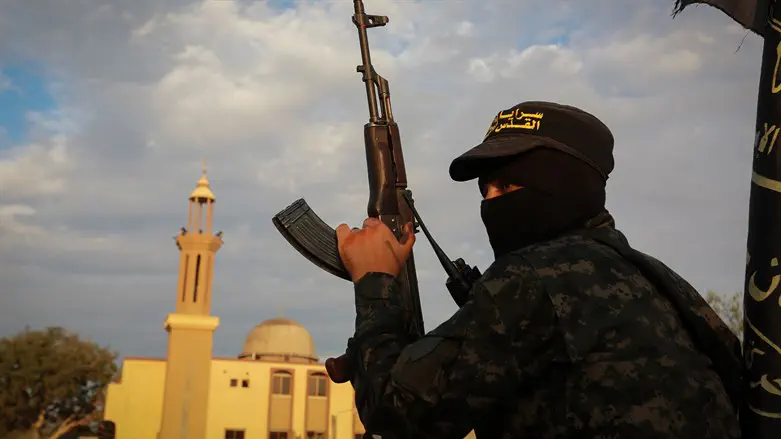 Islamic Jihad terrorist
Flash 90
Has the jihadist threat become run-of-the-mill? Has it just disappeared?
You might think either of these to be the case, given how little the media—particularly, the U.S. media—seems to make of it anymore. Arrests of terror cells, the disruptions of plans of attack, shootings and stabbings, particularly in Europe, all go little reported and are frequently entirely ignored these days by the U.S. press.
But that doesn't mean they aren't happening or that the threat is anywhere near over. As Christine Abizaid, director of the National Counterterrorism Center in Washington, D.C., told the Washington Institute in January, "Despite significant progress in diminishing the terrorist threat to the United States, the country continues to face a diversified, transnational and in many ways unpredictable threat environment both at home and abroad."
A recent Dutch intelligence overview of the jihadist threat in Europe and the West cautions, "There are more and more signals that jihadist groups are making preparations for terrorist attacks in Europe."
International Threats
Holland and Sweden have especially been singled out, notes the Dutch intel agency AIVD, largely in response to events in both countries involving the destruction of Qurans by far-right activists. But the threat extends across the West, the AIVD report says, encompassing all of Europe as well as Canada and the United States.
Indeed, the first jihadist attack of 2023 took place in New York City's Times Square on New Year's Eve when Muslim convert Trevor Bickford attacked three police officers with a machete. And that was just the beginning.
Since then, several terror attacks have killed and injured people across Europe, while several more have been disrupted by counterterrorism forces and police.
In addition, German, American and U.K. authorities have broken up terror finance rings linked to ISIS and Hezbollah, all, as the AIVD reports, while "the online activities of jihadist individuals and groups are expanding worldwide."
Take, for instance, the Kosovar refugee who, on Jan. 14, stabbed random passersby on a street in Strasbourg, then warned the officers who arrested him on the scene that "you will burn in hell for what you have done in Palestine." Consider the stabbing by a "man of Palestinian origin" who killed two teenagers and wounded seven other people on a train in Germany on Jan. 25.
Only weeks later, Turkish authorities arrested 20 members of the Islamic State of Khorasan Province (ISKP), the Afghan arm of ISIS, disrupting their plans to attack synagogues and churches, as well as American and several European diplomatic posts in Istanbul.
In April, five men with ISIS ties were taken into custody in Sweden and charged with plans to conduct an attack there—likely retribution for the Koran burning there in January.
So these activities have continued, with arrests in Antwerp and Brussels in March of 15 men suspected of planning attacks on Belgian soil. Though the arrests took place the same night, the two groups were believed to be operating separately. So, evidently, was the terror cell apprehended in the Belgian region of West Flanders in May. The seven suspects in that case, all with Chechen roots, were "fervent followers" of ISIS, reported Belgian newspaper Standaard.
Terrorist Financing Efforts
Meanwhile, fundraising for terrorist groups has shown no signs of a slowdown. In April, the U.S. Justice Department unsealed an indictment of Belgian-Lebanese art and diamond dealer Nazem Ahmed and seven others, charging them in absentia with a vast, complex scheme involving art, diamond and real estate deals that funneled more than $160 million to Hezbollah.
According to the indictment, in 2019 the U.S. Treasury Department's Office of Foreign Assets Control declared Ahmad "a major Hezbollah financial donor who laundered money through his companies for Hezbollah and provided funds personally to Hezbollah Secretary-General Hassan Nasrallah [and was] involved in blood diamond smuggling."
The same day the indictment was unsealed, British counterterrorism police arrested Ahmad, as well as one of his co-conspirators, Sundar Nagarajan.
In Germany, where two Iranian brothers were arrested in January and charged with planning a poison attack, more than 1,000 police raided homes throughout the country on May 31 before arresting seven men and women, all said to be raising funds for the Islamic State. At least 65,000 euros had already been transferred by the time of the arrests, reportsDeutsche Welle. The funds were sent to aid ISIS members imprisoned in Syrian camps and assist in their escapes.
This last case is of particular concern. Escapees from the camps have long been considered a significant threat, especially to Europe, where authorities continue to wrestle with the options of either allowing the repatriation of nationals who left to join the Islamic State or risking still-radicalized ISIS members breaking free from the camps and slipping back into Europe unnoticed, able to move and act freely.
Radicalization Speeding Up
If all this weren't enough, intelligence agencies in Holland and Belgium are further warning that people are radicalizing faster and younger than ever: Among the five arrested in Sweden in April, for example, one was just 15 years old. Only a day after the Swedish arrests, a 14-year-old ISIS fan was arrested in France. A search of his home found explosives, including triacetone peroxide. Trevor Bickwith, the Times Square knifer, was just 19.
There is, however, some good news in all this: Thanks to ever-improving intel, far more terror plans are being thwarted than carried out, keeping law enforcement, at least for now, ahead of the game.
The bad news is that counterterrorism experts worldwide agree on at least one thing: The situation likely will not stay that way much longer.
Abigail R. Esman is an Investigative Project on Terrorism senior fellow and a freelance writer based in New York and the Netherlands. Her latest book, Rage: Narcissism, Patriarchy, and the Culture of Terrorism, was published by Potomac Books in Oct. 2020. Follow her at @abigailesman.
Sent to Arutz Sheva by The Investigative Project on Terrorism.