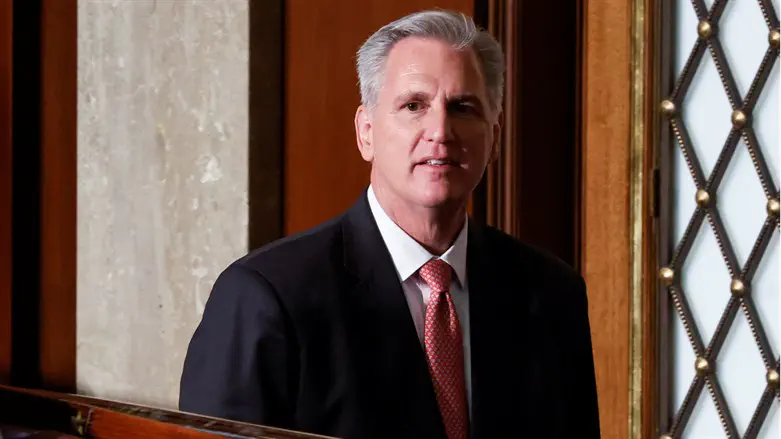 Kevin McCarthy
REUTERS/Jonathan Ernst
House Speaker Kevin McCarthy (R-CA) said on Friday that the federal indictment of former President Donald Trump will "disrupt the nation" and argued that it violates the principle of equal justice under the law.
Speaking to Fox News, McCarthy said that other public officials, like President Joe Biden, also possessed documents they should not, but the other officials are not facing charges like Trump is.
"This is going to disrupt this nation because it goes to the core of equal justice for all, which is not being seen today. And we're not going to stand for it," said McCarthy.
McCarthy also said he has spoken to House Judiciary Committee Chairman Jim Jordan (R-OH) and House Oversight Committee Chairman James Comer (R-KY) on what they can do to ensure "equal justice."
He added that Steven D'Antuono, a former assistant director in charge of the FBI's Washington, D.C., field office who opposed the surprise search of Mar-a-Lago the FBI conducted in August, testified before the Judiciary Committee and revealed the investigation was conducted improperly.
"When you learn of some of the things that he had said of how this investigation was carried out, you'll see then that this judgment is wrong by this DOJ, that they treated President Trump differently than they treat others, and it didn't have to be this way," McCarthy told Fox News.
McCarthy's comments came after the indictment against former US President Donald Trump in the classified documents probe was unsealed.
Trump faces 37 counts in the case, including 31 counts of willful retention of national defense information, according to the indictment.
Walt Nauta, an aide to Trump, was also indicted in special counsel Jack Smith's investigation into the mishandling of classified documents.
Trump and Nauta both face a count of conspiracy to obstruct justice, according to the federal indictment. Trump is also accused of showing classified documents on two occasions to others, according to the indictment.
Speaking after the indictment was unsealed, Special Counsel Jack Smith urged Americans to read the indictment to understand the "gravity of the crimes", and also stated that US laws "apply to everyone".
Smith, who was appointed in November 2022 by Attorney General Merrick Garland to oversee the investigations against Trump, defended the FBI and Justice Department's conduct.
"The prosecutors in my office are among the most talented and experienced in the Department of Justice. They have investigated this case hewing to the highest ethical standards, and they will continue to do so as this case proceeds," he said.
Trump insists that he declassified the documents in question before leaving office. The former President and his lawyers have publicly insinuated on multiple occasions that the agents who carried out the raid planted evidence during the search.
(Israel National News' North American desk is keeping you updated until the start of Shabbat in New York. The time posted automatically on all Israel National News articles, however, is Israeli time.)