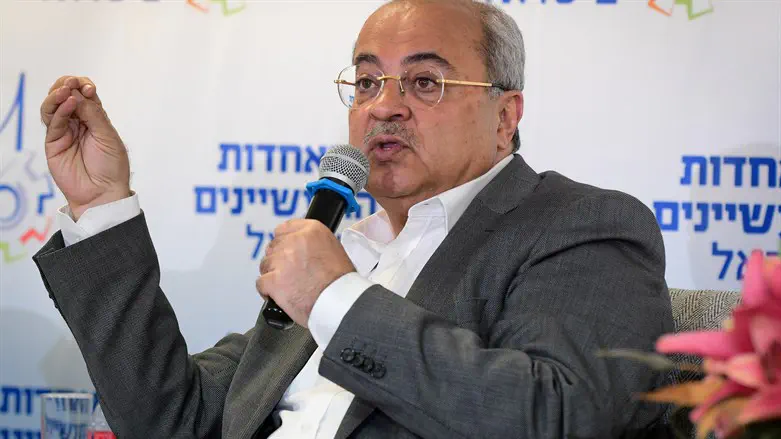 Ahmed Tibi
Avshalom Sassoni/Flash 90
MK Ahmed Tibi, from the Ta'al faction of the predominantly Arab Joint List Party, on Thursday called the shooting in Yafa an-Naseriyye in northern Israel, which claimed the lives of five Israeli Arabs, "a massacre" and pointed an accusing finger at the Israeli authorities.
In an interview with the Israeli Arab news website Al-Jarmaq, Tibi said, "The Israel Police know who are the leaders of the war between the criminal organizations that has broken out in recent months, who is against whom, who is planning to kill whom and who wants revenge on whom."
"The weapons that were used are automatic weapons, and if automatic weapons were used against Jews or against so-called 'state security', the state and the police would have acted differently and immediately," he claimed.
"The police also know who issues the instructions to murder within the criminal organizations that create an atmosphere of terror in Arab society and Arab communities," said Tibi.
"Why aren't the police doing anything against the criminal organizations? Are they satisfied with this war?" wondered Tibi, noting that "the Israel Police succeeded in fighting the criminal organizations in Netanya, Tel Aviv and other cities, and therefore they are able (to fight crime in the Arab sector as well)."
Tibi noted that Itamar Ben Gvir being the Minister of National Security is a "disaster", as he is a convicted criminal, and stressed in this context that "this man should not remain in office even one more minute".
Tibi also demanded that psychological support services be provided to children in Arab towns in which acts of violence and crime are rampant, similar to services provided in the Jewish communities which have under rocket attacks or terrorism.