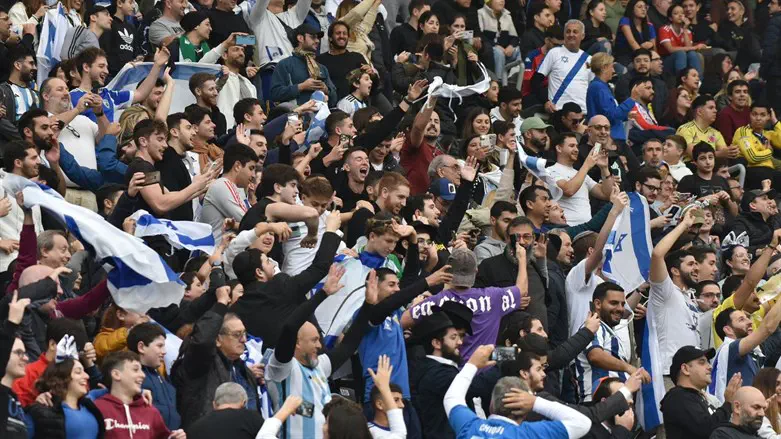 Jewish fans cheer on Israel's under-20 soccer team at the Diego Maradona Stadium
Fede Peretti/ Israel Football Association
Minister of Culture and Sports Miki Zohar (Likud) landed in Argentina for the occasion of the semi-final match of the FIFA U20 World Cup, in which the Israeli youth team will be participating after upsetting Brazil, the popular favorite.
Minister Zohar met with Argentina's Minister of Sports and Tourism Matías Lammens together with Israel's Ambassador to Argentina Eyal Sela and the minister's chief of staff for sports, Chen Avitan.
The ministers discussed how Argentina and Israel are complementary economies and that there is great potential for cooperation between the countries to share and deepen ties in the field of sports in a variety of ways, including strengthening tourist ties between the countries and even working on direct flights between the countries.
When the subject of international relations came up, Minister Zohar mentioned the strong Jewish community in Argentina and the many immigrants from Argentina in Israel, and asked him that Argentina take a more aggressive stance against Iran, including with the Atomic Energy Agency (IAEA) talks in Vienna regarding Iranian violations against the organization.
Regarding the Iranian threat, Minister Zohar explained that Israel will not be able to allow Iran to possess nuclear weapons: "We expect Argentina's support in Israel's struggle to defend the country."
Israel's youth team will take the fields for its semi-final game at 8:30 p.m. Thursday night.