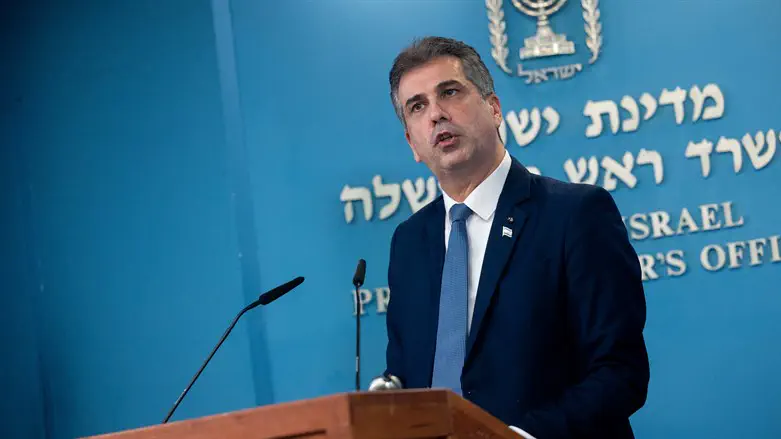 Eli Cohen
צילום: יונתן זינדל, פלאש 90
Israel's Foreign Minister fired back Wednesday on US Vice President Kamala Harris' veiled criticism of the Israeli government's judicial overhaul plan.
During a reception hosted by the Embassy of Israel in Washington, D.C. on Tuesday in honor of Israel's 75th Independence Day, Harris appeared to take aim at the Israeli government's judicial reform plan, which has been shelved since March, claiming that the strength of the US-Israel relationship is based in part on the independence of Israel's judiciary.
"America will continue to stand for the values that have been the bedrock of the US-Israel relationship, which includes continuing to strengthen our democracies, which are both built on strong institutions, checks and balances, and I'll add an independent judiciary."
Israeli Ambassador to the US, Mike Herzog - brother of Israel's President, Isaac Herzog - also alluded to the judicial reform during the reception, saying: "We are a young nation still deliberating on its path, but I am confident we will remain a democracy."
MK Simcha Rothman (Religious Zionist Party), chairman of the Knesset's Constitution, Law, and Justice Committee and an architect of the judicial reform plan, was present at the reception Tuesday.
Foreign Minister Eli Cohen (Likud) responded to Harris' comments during an interview on Reshet Bet Wednesday morning, claiming the Vice President had no knowledge of the actual proposals in Israel's judicial reform plan.
"If you'd ask Kamala Harris what bothers her about the reform - she wouldn't even be able to cite a single clause that bothers her. I bet that she hasn't even read the bill. Even the judges in the US don't have the right to decide who will replace them."
US Ambassador to Israel Thomas Nides defended Harris' comments during an interview with Israel's Channel 12.
"The fact that the Vice President came to celebrate Israel's 75th Independence Day speaks for itself about the relationship of the two countries. I have respect for Foreign Minister Cohen, but the Vice President said things the administration says every opportunity regarding the shared values and policies. Harris is a strong supporter of Israel."