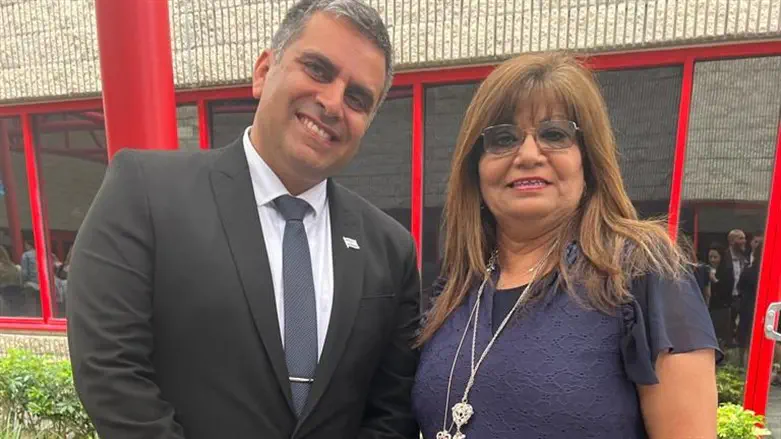 Ronit Bar and Ofir Sofer
None
Last January, a lone soldier who had immigrated to Israel from the US, was injured when a grenade exploded in the barracks of an IDF base in the Jordan Valley, killing private Denis Zinoviev.
During his hospitalization, the Minister of Immigration and Absorption, Ofir Sofer of the Likud, came to visit him, and the two formed a bond in light of the fact that the minister had also been injured while serving as an officer in the same battalion.
Yesterday (Thursday), four months after the incident, Minister Sofer received a message of thanks from Matan's mother, Ronit, who happened to discover that the minister was coming to visit the Donna Klein Jewish Academy in Palm Beach County, Florida, where she works as a teacher.
"I was very excited to meet Matan's mother - the mother of a soldier who left behind a comfortable life in the US to come fight in Israel. The least I could do [when Matan was injured] was visit him and help as much as possible," the minister said during the meeting.
Minister Sofer finished a two-day visit to Miami last night together with members of the Nefesh B'Nefesh organization. During the visit, the Minister met the CEO of the Miami Federation, Jacob Solomon, other heads of the Jewish Federation, members of the local community, and American Jews hoping to make Aliyah to Israel.
"I was happy to meet Jacob Solomon, President and Chief Executive Officer of the Greater Miami Jewish Federation. I told Jacob that the State of Israel sees great importance in its connection with Jewish communities in the US, and that I hope that together we can strengthen Aliyah to Israel," said Sofer after their meeting.