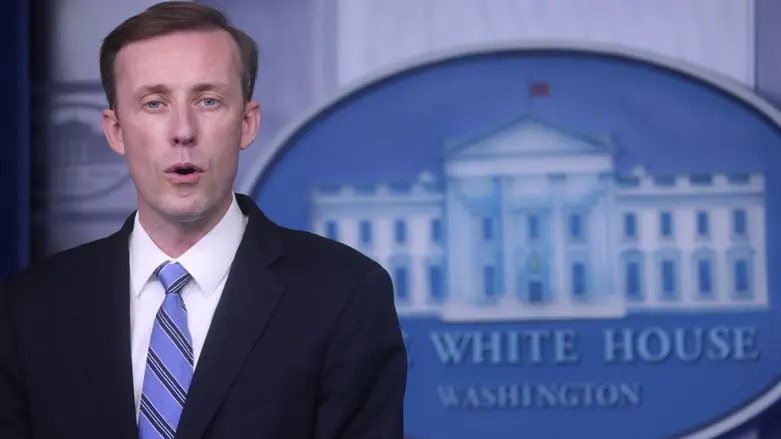 US National Security Advisor Jake Sullivan
REUTERS/Leah Millis
US President Joe Biden's National Security Adviser, Jake Sullivan, on Thursday hosted Israeli National Security Advisor Tzachi Hanegbi and Minister of Strategic Affairs Ron Dermer at the White House to discuss a broad range of global and regional issues of mutual concern.
In a statement summarizing the meeting, the White House said, "Following up on the March US-Israel Strategic Consultative Group, they continued discussions on enhanced coordination to prevent Iran from acquiring a nuclear weapon, and ways to counter threats from Iran and its proxies."
Sullivan, the statement added, "reaffirmed the Administration's goal of further enhancing Israel's security and economic integration throughout the Middle East. Sullivan also stressed the need to take additional steps to improve the lives of Palestinians, critical to realizing a more peaceful, prosperous, and integrated region.
Finally, said the statement, "Sullivan discussed our shared concern with Russia's deepening military relationship with Iran, and the importance of supporting Ukraine in the defense of its territory and citizenry, including from Iranian drones."
Sullivan previously spoke with Hanegbi in early May as terrorists from the Gaza Strip fired barrages of rockets towards Israel. A statement from the White House following the call said that "Sullivan reaffirmed the Administration's ironclad support for Israel's security, as well as its right to defend its people from indiscriminate rocket attacks."
"Sullivan also noted continued regional efforts to broker a ceasefire, and emphasized the need to deescalate tensions and prevent further loss of life," the statement added.
Hanegbi and Dermer's visit to Washington come amid concerns in Israel about a possible push by the Biden administration for a "freeze for freeze" interim agreement with Iran.
Axios reported last month that the Biden administration discussed with its European and Israeli partners a possible proposal for an interim agreement with Iran that would include some sanctions relief in exchange for Tehran freezing parts of its nuclear program.
Earlier this week, Axios reported that Brett McGurk, Biden's senior Middle East adviser, took a low-profile trip to Oman last month for talks with Omani officials on possible diplomatic outreach to Iran regarding its nuclear program.
According to the report, McGurk traveled to Muscat on May 8 after a trip to Saudi Arabia with national security adviser Jake Sullivan and a visit to Israel to brief Prime Minister Netanyahu about the US talks in Riyadh.
The Muscat visit wasn't made public by either the US or Oman. The officials said the main issue that was discussed was a new diplomatic push over Iran's nuclear program with Omani mediation.
Thursday's meeting also comes a day after the IAEA issued a new report in which it declared its intention to close two probes of highly enriched uranium particles and a site where man-made uranium was found.