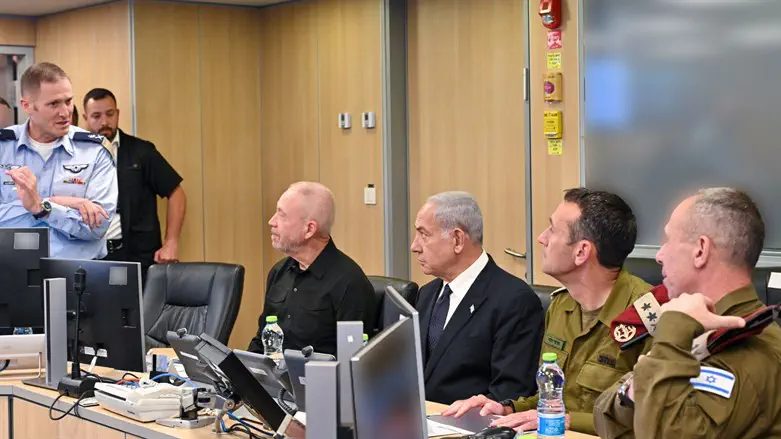 Netanyahu and Gallant watch the exercise
Kobi Gideon / GPO
Prime Minister Benjamin Netanyahu visited the IDF operational headquarters at the Kirya in Tel Aviv Wednesday night to observe the Military's Firm Hand General Staff exercise.
The Prime Minister was accompanied by Defense Minister Yoav Gallant, IDF Chief of Staff Lt. Gen. Herzi Halevi, the Prime Minister's Chief of Staff Tzachi Braverman. and the Prime Minister's Military Secretary Maj. Gen. Avi Gil.
Prime Minister Netanyahu held an exercise-level forum with the Defense Minister, IDF Chief of Staff, and the IDF General Staff Forum, in which they were presented with the exercise scenarios, assessments, and the preparedness of IDF combat units from all corps in various areas.
In the second part of the exercise, which was joined by Air Force Commander Maj. Gen. Tomer Bar, they observed an operational model of Air Force attacks in exceptional circumstances as part of the exercise and of the multi-year plan and the adaptation of the IDF to future threats.
At the conclusion of his visit, Netanyahu stated: "We are working around the clock to safeguard the security superiority of the State of Israel. In this exercise, which simulates a very large-scale attack, the IDF – including the Air Force – have again demonstrated that its capabilities are unlimited."