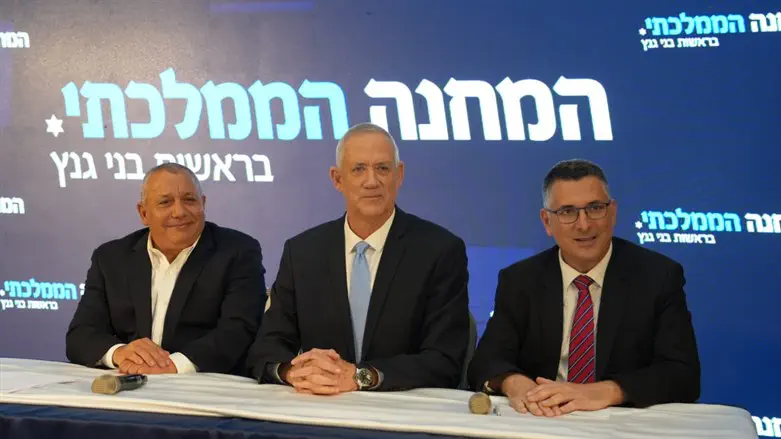 The heads of National Unity, L-R Eisenkot, Gantz, and Sa'ar
Elad Malka
Approximately half a year after the last election cycle, the National Unity party seems to be getting ready to hold party primaries. Israel National News has found that the primaries directly result from inner-party pressure on chairman MK Benny Gantz.
This week, Gantz was asked about primaries during a party meeting and said, "The process will be publicized soon."
The pressure comes mainly from the New Hope faction, which wants to ensure its place in the party.
MK Gadi Eisenkot is also pressing to advance the process since it was one of the fundamental promises made to him before joining the party.
In addition, the formation of a committee to prepare for primaries became part of the three-way deal between Gantz, Gideon Sa'ar, and Eisenkot before the previous elections.
In the first stage, a committee that would be led by MK Gadi Eisenkot and include a retired judge and representatives of the factions that make up the party would be formed.
At this time, there are still disagreements regarding the character of the internal elections. While Gantz and Eisenkot want to hold elections for the party list, New Hope also wants elections for the party leader.
Over the past few months, there has been a silent enlistment of party members. While the ones behind the enlistment are Blue and White MKs, the more dominant group belongs to New Hope.
A source in Blue and White told INN that "this is why the process hasn't started yet, we have to tie loose ends to ensure a fair election. This is a relatively new party and a seasoned enlisted group from New Hope can not 'take over' the party.
The centrist National Unity Party is an alliance between Benny Gantz's Blue and White party, Gideon Sa'ar's New Hope party, and former IDF Chief of Staff Gadi Eisencot.