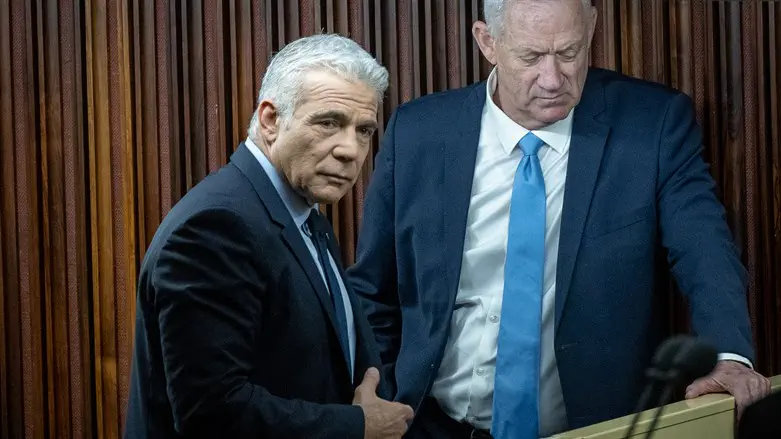 Yair Lapid (L) and Benny Gantz (R)
Yonatan Sindel/Flash90
Despite efforts to coordinate their positions during discussions on the proposed judicial reform, there are discrepancies between the demands of the National Unity party and those of Yesh Atid, Israel Hayom reported.
According to the report, Yesh Atid has said that they are unwilling to reach agreements until a member of the opposition is chosen for the Judicial Selection Committee, and Justice Minister Yariv Levin holds a meeting of the committee before the end of June.
Meanwhile, the National Unity party do not agree that Levin must hold a committee meeting, saying that there is no basis for requiring a Justice Minister to do this. President Isaac Herzog's negotiations team was also surprised by Yesh Atid's demand, and said that there is no room for interfering in the Justice Minister's work.
However, Yesh Atid continues to insist on the committee meeting as a condition for reaching agreements, and is threatening to "blow up" the talks if the committee does not meet for too long a period. This is due to concerns that Levin will not call a committee meeting, thus paralyzing the system.
According to sources in Yesh Atid, "They are not willing to be a fig leaf for [Prime Minister Benjamin] Netanyahu and Yariv [Levin], there are 80 judges to elect, there is no reason to choose representatives for the committee if it is going to elect judges."
Lapid also discussed his demand with President Herzog.
Israel Hayom noted that requiring the committee to meet will not necessarily cause judges to be elected, since Levin could still say that he had not succeeded in garnering a majority.
From the outset, the National Unity party's strategy has been to buy time, in an effort to force the coalition to reach a dead line at which they will be forced to appoint Knesset representatives to the Judicial Selection Committee in its current format, so that the likelihood of it changing afterwards will be low and filled with legal obstacles. The National Unity is thus focused on selecting a representative from the opposition to the committee and ensuring that this appointment takes place, and is not focused on additional demands, which they see as "irrelevant."